Last updated on May 11th, 2023
*This post may contain affiliate links. As an Amazon Associate we earn from qualifying purchases.
Food delivery has become a staple in many people's lives over the last few years. Especially with the busy lives that many of us lead, food delivery can be a life-saver. It is an efficient and convenient way to get the food that you're wanting without having to leave your own home. 
For many people, this greatly improves their lives. From a lazy weekend night to a busy weekday lunch break, food delivery often comes in handy. 
When it comes to higher-end restaurants, it can be difficult to figure out how to get food delivered from them or if you can even get food delivered to your door at all! People often associate these types of high-end restaurants with a traditional dine-in experience, but that does not have to be the case at all. 
Of course eating in Olive Garden restaurants is great since you can take advantage of their unlimited soup, salad, and breadsticks but if the wait times are astronomical or you didn't make a reservation at Olive Garden, you might want to order it to have it delivered instead…
But can you?
The next time you're having a craving for their amazing breadsticks, and you wonder whether Olive Garden delivers now you will know the answer.
Olive Garden does offer delivery right to your door directly through their Olive Garden delivery service. However, there is a minimum order of $100 to order directly through Olive Garden and you also have to order a day in advance.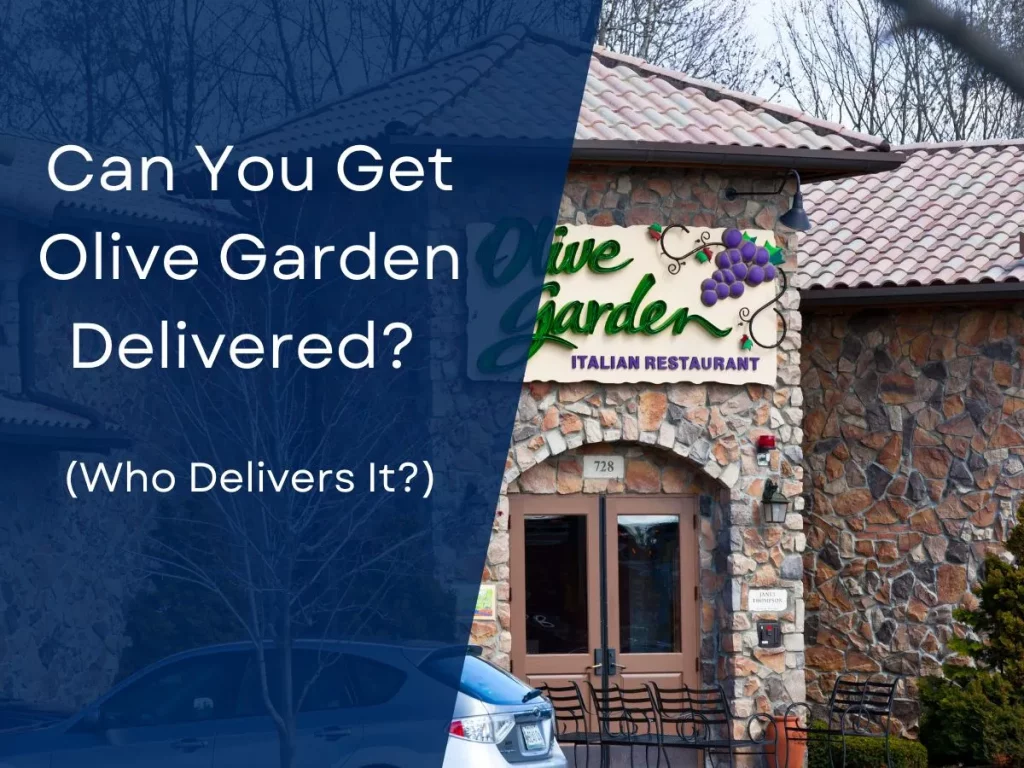 If you want to get an Olive Garden delivery but you don't want to order $100 worth of food then you will need to get Olive Garden delivered through the third party companies.
Currently you can order Olive Garden through the following food delivery services:
Grubhub
Postmates
Uber Eats
Currently DoorDash DOES NOT deliver food from Olive Garden so you will need to use one of the above food delivery companies instead.
Olive Garden delivery orders placed directly through an Olive Garden restaurant must be placed ahead of time as well. For example, for a lunch delivery the order needs to be placed with Olive Garden before 5PM on the previous day.
If you want to get some Olive Garden on short notice then you will have to order it from a third party service as well.
Another thing to consider is the cost to get Olive Garden delivery from Olive Garden vs getting it from a food delivery service. Olive Garden charges a 10% delivery fee on orders up to $500 and then 5% on anything over $500. So if you order $300 worth of food you will have a delivery fee of $30 when you order directly from Olive Garden.
Now that might not be too bad but that doesn't include tipping the driver either. So in general you will likely spend 15-20% of your order amount on a delivery fee.
Delivery is not just for pizza anymore. You can get Italian, Chinese, and so much more delivered right to you! Olive Garden does offer delivery so this can be a great option for those nights when you don't want to worry about making dinner or for busy nights when you don't have the time to get a meal on the table. 
You can get delivery for Olive Garden through several different avenues all of which I will explain in this article.  
Can You Get Olive Garden Delivered Through The Olive Garden Website?
Now that I've covered that you can a food delivery directly from Olive Garden your next question might be how… 
How can you get delivery of their food? Can you set it up on their website? 
You can request an Olive Garden delivery directly on their website and it is pretty straightforward. Just go to the Olive Garden website and click on the Order Now button. 
Once you click it that will take you to a page with three options; delivery being one of these options. 
The only drawback is that Olive Garden does impose a time restraint on delivery orders. You must pre-order your delivery by 5 PM the day before you are wanting the delivery. 
This can cause some conflict if you are needing your food delivered that day. 
If that is the case you will have to order the your food for delivery through one of the third party food delivery services mentioned above.
Can You Get Olive Garden Delivered Through The Olive Garden App?
You can order Olive Garden on their website but what about via their app? Is there anyway to order on there?
Unfortunately at this time, you cannot order Olive Garden delivery through the Olive Garden app. The only options offered through the app are to Order to Go and to Join the Waitlist. 
If you want to order delivery directly through Olive Garden, as of right now it must be through their website. 
What Other Services Offer Delivery For Olive Garden?
What if you don't want to order a day ahead of time through Olive Garden's website? Thankfully there are plenty of third-party apps to order food through. 
Ordering from Olive Garden is supported by the majority of food delivery apps. Currently the food delivery apps you can order Olive Garden on are: GrubHub, Postmates, and UberEats.
Unfortunately you cannot order Olive Garden on Doordash. So if thats the app you normally use or you have a discount or something for them you can't use it to order from Olive Garden.
These apps have the benefit of supporting freelance drivers that work for these companies. The other benefit is that these apps have no time restrictions like the Olive Garden website does. 
You can order Olive Garden through these apps whenever you are craving it and don't have to order it an entire day ahead of time.
This is perfect for those unplanned nights that you just need a quick meal delivered to your home. However, these apps will all have their own unique fees and you will need to tip pretty well to make sure that your food is actually picked up and delivered.
It is best to look into the fees associated with delivery on each app before you use it. 
How Much Is Olive Garden Delivery?
If you want to get a delivery from Olive Garden (or any other restaurant) you can expect to pay a fee to do so, but what kind of fees will you have to pay to get your Olive Garden meal delivered.
When you order Olive Garden delivery through the Olive Garden website, you must spend at least $100 in food before tax. There is a 10% delivery fee that extends up until $500 of purchased food as well. 
After you exceed $500, there is a 5% delivery fee for every dollar spent after that. Figuring in the gas, time, and convenience, this is a reasonable fee. People are often willing to pay a decent amount for the convenience of delivery alone. 
When you factor in the gas money and time you save, it is definitely worth the extra cost to many people. 
Can You Pick Up Olive Garden To Go? 
If you don't have the time to go into the restaurant for a dine-in experience at Olive Garden, but you are not at your home yet, a pick-up order could be the best option for you! 
It is convenient like delivery, but instead, you will save on the food delivery fees. 
You can pick up an Olive Garden order either inside the restaurant or you can get your order delivered to your car parked curbside. 
This way you can get the food you want and you will still be able to save time by not eating in the restaurant. 
Does Olive Garden Delivery Come With Breadsticks And Salad?  
Of course one of the main draws of Olive Garden are the breadsticks and salad that come with every meal! It is a staple part of the Olive Garden dining experience. 
But do you get it when you have Olive Garden delivered? 
When you order delivery from Olive Garden, each entree you order will come with 2 breadsticks. As for the salad, Olive Garden will include a salad of your choice with each entree as well! 
If you want extra breadsticks, make sure to specify in the special instructions when you order, and Olive Garden will give you 2 more extra breadsticks. 
This way you can get all of the Olive Garden perks with each food delivery service. 
Final Thoughts
Getting food delivered to your door can be a stress-relieving and carefree experience. If you're confused about how to get food delivery, however, it can quickly turn into a stressful venture! 
The purpose of getting food delivered is to cut down on time, but if you spend extra time trying to find out how or where to even order the delivery, it will quickly defeat the purpose. 
In conclusion, Olive Garden has two main options for delivery. The first option is to go through the Olive Garden website, but the only choice you will have for ordering is to order next-day delivery. The second option is to order through third-party apps which are convenient and quick but will charge a bit extra for their services. 
It is such a convenience to be able to order Olive Garden to your front door, and it makes it even more convenient that you have so many options by which you can order!