Last updated on May 12th, 2023
*This post may contain affiliate links. As an Amazon Associate we earn from qualifying purchases.
Panera restaurants offer their guests yummy healthy meal alternatives in the fast food world. Their sandwiches, soup and salads are delicious. 
Keeping up in these modern times, they have started their own delivery system so you don't have to leave your couch when you want a fresh bowl of that broccoli cheddar soup. It seems most people now are going for the option of not carrying cash around with them and sometimes not even a debit or credit card. 
Many restaurants now accept Apple Pay from the customer's phone that is easy and convenient for them. Along with app ordering, and delivery, does Panera take Apple Pay?
Panera was one of the first restaurant chains to support purchases using Apple Pay. Panera takes Apple Pay to make your in store purchase simplex and easy.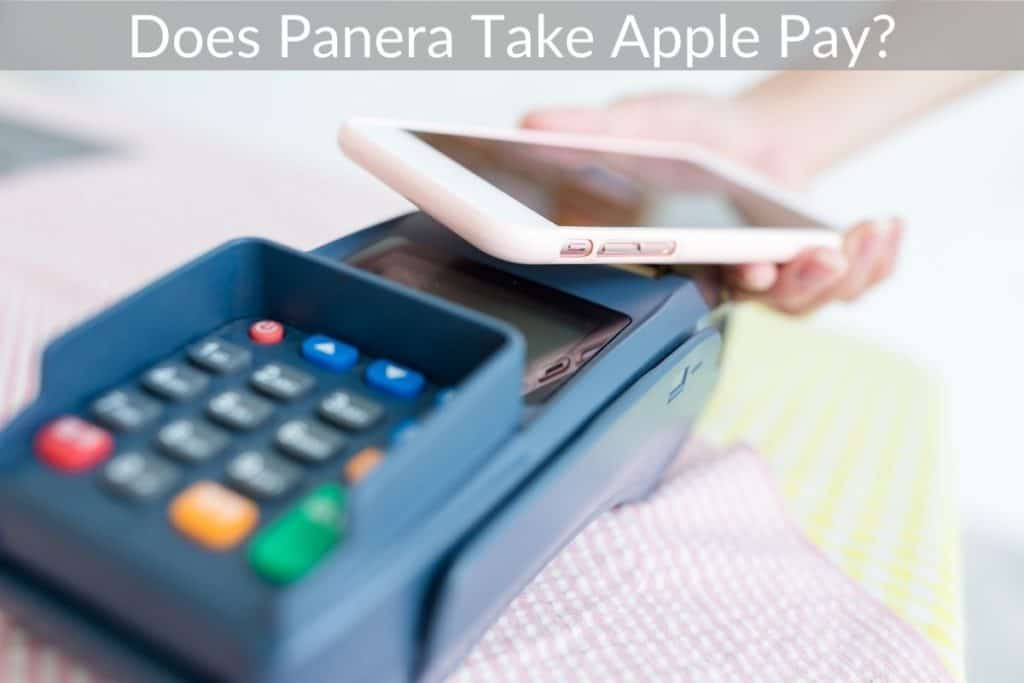 If you are making a purchase of some of Panera's  food and are paying at the counter, you can pay with Apple Pay. Just hold your phone near the contactless reader while keeping a finger on your Touch ID button (or in front of your face for Face ID) to successfully make a payment with Apple Pay. 
This way you won't have to pull out a card and go through the whole swipe or chip process. Using Apple Pay is a great way to avoid unnecessary contact and it is much faster too. 
Using Apple Pay to make a purchase at Panera also works with an Apple Watch making it even easier. 
Since Panera was one of the first restaurants to do Apple Pay, they know how to keep up with all their customers' needs. Purchasing and keeping track of those purchases is so easy with Apple Pay. It's more convenient for you so if you forget your wallet and are craving some Panera you can still get that food to enjoy. 
You can also use Apple Pay through the Panera app from your phone. Just add all the menu items you want to your cart and when it's time to check-out, click Apple Pay as your payment method. 
Can I Pay With My Phone At Panera?
Panera not only offers delicious and healthy food they also like to keep up with the times to better serve their customers. If you forgot your wallet at home and only have your phone to use to make a payment at Panera, can you?
You can use your phone to pay at Panera by using Apple Pay, or Google Pay. 
Using Apple Pay or Google Pay to purchase food is fast, simple, and convenient for you. Panera knows this and you can use your phone to pay through their mobile app or in store. 
The whole purchasing princess is pretty easy and you will be enjoying that Roasted Turkey and Avocado BLT in no time. You can also use these payment methods in the app by choosing Apple Pay or Google Pay as your payment method. 
To make a purchase with Apple Pay or Google Pay you have to set them up on your phone or watch first however. 
When you are ready to order, just head on up to the cashier at the counter. After you order your meal, go to Apple Pay or Google Pay on your phone and rest your finger on the touch ID or use facial recognition (depending on your phone model). 
Then hold the phone over the contactless reader. This is the machine that normally your card goes into. Just hold the phone there until you hear a ping sound and check to see if the screen has accepted your payment. 
Your phone will also tell you "done" and that's all there is to it. Now you are ready to make a purchase at Panera using your phone. 
Where Is Apple Pay Accepted?
Panera accepts Apple Pay! Now you can eat at your favorite sandwich place by using Apple Pay for a faster and more conventies experience. 
But what are some other places that accept Apple Pay?
MacRumors states that, "Apple Pay is accepted in more than a million retail stores, restaurants, gas stations, grocery stores, and more across the United States. By the beginning of 2019, Apple Pay was available in 65 percent of U.S. retail locations. 74 of the top 100 merchants in the United States accept Apple Pay."  
There are a lot of different places that currently accept Apple Pay so it would take a while to name them all. Instead you can go to the specific company's website if you're curious if they accept Apple Pay and check for yourself. 
Then all you need to make a purchase is your phone or Apple Watch. 
If you have used Apple Pay when making purchases, you know how fast and easy it is. It is convenient to just whip out your phone and make a purchase right there. Not to mention that the whole process of using Apple Pay to purchase something is contact-free. 
This is important if you want to be safe and careful not to transfer germs from the card reader to your card and so on. You can use Apple Pay at so many locations of stores and restaurants. 
Everyone carries around their phones so why not make purchases with it, too? It's just something designed to make your life a little easier. 
Does Apple Pay Charge A Fee? 
When you use Apple Pay you will love the freedom it gives you to make quick purchases. But does Apple Pay charge a fee every time you use it?
Apple Pay does not charge a fee for use. You can make purchases in store, online, or in apps totally free from unwanted fees.
If you are one to only carry around your phone, it's a no-brainer that you would have your money on it too. Apple Pay has been designed to help you make purchases from your phone. They also keep your money safe and secure.
Every time you want to make a pruches, you either enter a passcode, use Touch ID, or use facial recognition to do so. This way they know it's you that made the purchase so you can keep your money safe.
If you are hesitant about using the payment method on your phone, it's important to know these facts about it. 
Apple Pay also charges no fees so you don't have to worry about any extra costs when you pay for your groceries or retail items using it. The whole process is faster and easier than using cards or cash. Apple Pay is also accepted at over 85 percent of retailers across the U.S. 
Using it to make purchases is a lot safer than touching buttons or exchanging cash. Apple Pay has privacy and security built in.
Final Thoughts
Panera restaurants accept Apple Pay when you're making a purchase at their stores or on their app. The whole process is safe and secure. 
No touching buttons and no worries when forgetting your wallet. Your money is protected on your iPhone so you can make quick, easy and convenient purchases. 
You can even use your Apple Watch to make the purchases or use Apple Pay when ordering through the Panera app. It is accepted at so many restaurants and retail stores across the U.S. 
Apple Pay makes ordering that soup and sandwich at Panera just a little better.