*This post may contain affiliate links. As an Amazon Associate we earn from qualifying purchases.
Taco Bell sounded good for lunch. You were craving a Crunchwrap and decided that this fast food restaurant would be a great place to eat. 
When visiting a Taco Bell you head to the counter to order some of their food. After scanning the menu you order that Crucnhwrap meal that sounded good to you. 
The cashier reads you the total cost of the food. Now, when you go to pay for it there are several ways it can be done. But, what forms of payment does Taco Bell accept?
Taco Bell currently accepts cash payments as well as debit or credit card payments. They also accept payments by using Apple Pay or Google Pay and payment from a Venmo or Paypal debit card. Customers can also use Taco Bell gift cards to make purchases with.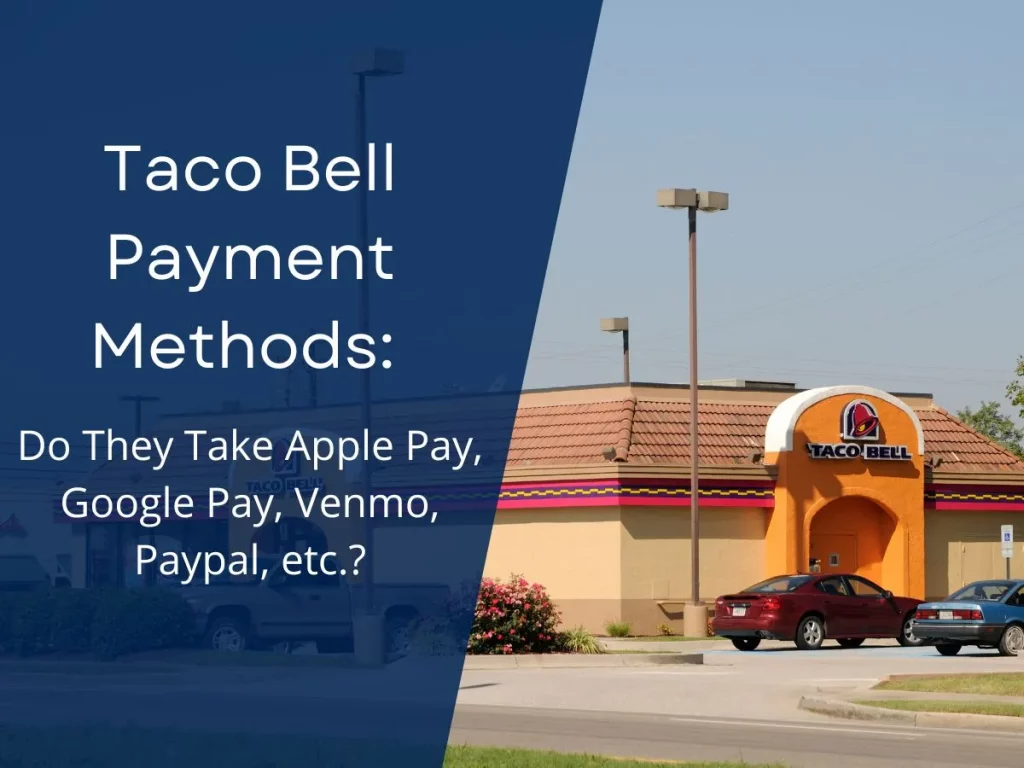 Most restaurants and fast food chains only accept certain methods of payment for transactions. These are the usual ways people pay for their meals. Taco Bell is no exception. 
Here, you can purchase food with cash, credit cards, or debit cards. Digital wallets that store your card information such as Apple Pay or Google Pay are also acceptable payment methods at Taco Bell. 
Taco Bell gift cards can also be used to make purchases.
All of these payment methods (except for cash of course) can be used in the store, online, or on the Taco Bell app. If you are ordering food online or on the app, add your preferred debit card, credit card, or gift card to the "Payments" tab in My Account. 
A Venmo or Paypal debit card can also be added to make purchases with. For more information about making purchases at Taco Bell online, click here. 
Does Taco Bell Take Venmo?
Venmo is a great way for you to pay or receive money from others. The app is usually used by friends and family to pay each other money they owe. 
The money stays on the app until you want to use it. You can transfer it to your bank account or even to a Venmo debit card to make purchases at places that don't accept money directly from the Venmo app. 
Some small businesses even accept Venmo as payment. Unfortunately some of the larger corporations don't accept Venmo as a method of payment for transactions.
So, what about Taco bell? Being a larger company, does this fast food chain restaurant accept Venmo?
Taco Bell doesn't directly accept payments from your Venmo account but if you have a Venmo debit card, you can use this at their store locations to purchase food. Just use the Venmo card as a regular debit card to make your food purchases.
What began as a hot dog stand soon turned into one of America's largest fast food chains. From there, the first Taco Bell restaurant was started back in 1962 and has grown to be a leader in the fast food world. 
Their Tex-Mex food choices are a favorite for many. You can get tacos and burritos among many other Mexican menu items within minutes. It's even one of the healthiest fast food places to eat at. 
Venmo is an app where people can transfer money to others and has been growing more popular in recent years. Some may wonder if Taco Bell accepts Venmo as a form of payment. 
There is only one way that Taco Bell accepts Venmo and that is when you use the Venmo debit card. They don't accept Venmo when used directly from the app. 
The Venmo debit card is processed just like a regular debit card so transactions for the Tex-Mex food are able to be done this way.
Does Taco Bell Have Touch Pay?
Taco Bell is one of your go-to places for a yummy Mexican-inspired meal paired with a Mountain Dew Baja Blast. You were out and about when you spotted a Taco Bell. 
This sounded good for a quick meal and so you pulled into the parking lot. Heading into the restaurant you realized that you forgot your wallet at home. You have your phone with Apple Pay but you aren't sure if they would accept that as a payment option.
Does Taco Bell have touch pay?
Taco Bell does have touch pay for food purchases at their store locations. They accept touch pay payments such as Apple Pay or Google Pay so you can easily set your phone on the card reader and make purchases from money on your device.
Forgot your wallet at home? Don't worry! If you have Apple Pay or Google Pay on your device, Taco Bell accepts these payment methods. 
Touch Pay at Taco Bell is easy to use. Just pull up your Apple or Google Pay screen and hover your phone over the card reader. It will scan and remove the money directly off of your device. 
This is such a fast and easy way to get the food you are craving even if you forget your debit or credit cards at home.
Now, you can still order food from Taco Bell even if you don't have your wallet on you at the time. Using your phone to make the purchase is simple to do. And you don't have to carry around so many things in your pockets while you are out. 
The only thing is Taco Bell won't accept payment directly from Venmo or Paypal. To use money from these apps you will need to use a Venmo or Paypal debit card to make purchases.
Does Taco Bell Take Apple Pay?
If you have an iPhone then you likely have Apple Pay connected as well. Apple Pay allows you to easily pay with a variety of payment methods online and in stores. With the many payment methods that Taco bell takes you might assume that they take Apple Pay as well, but do they?
Taco Bell does take Apple pay on both their app as well as in stores. So if you want to pay for your next late night Taco Bell run you can leave the wallet at home! All you need is your iPhone or Apple Watch and you are ready to pay.
You can use Apple Pay at Taco Bell in the drive-through or at the counter inside. As long as you have your phone or Apple Watch you can use it to pay.
Does Taco Bell Take Google Pay?
If you have an Android phone you obviously will have Google Pay on it. That allows you to make payments in store using your saved credit cards with just your phone.
Taco Bell takes many different payment methods but do they take Google Pay?
Taco Bell does take Google Pay in their restaurants as well as on their mobile app. So you can leave your cards and cash at home and just pay for your meal using your device.
Does Taco Bell Take Cash App?
A popular way to send money from one person to another is Cash App. This convenient app lets you easily send money to friends and family but can you pay for your meal at Taco Bell with it? Is that a payment method that Taco Bell accepts?
Taco Bell DOES NOT take Cash App. However, if you have the Cash App debit card you can use that at Taco Bell as well as at any other store or restaurant that takes debit cards.
Unfortunately Cash App is not accepted at hardly any stores currently since it is designed to send money from person to person. So if you have money in your Cash App account you will need to either send it to your bank and use your normal debit card to pay at Taco Bell or get a Cash App debit card to pay with.
Does Taco Bell Take Checks?
Not that long ago people used checks for everything. You would find them used at Walmart, gas stations, and even in restaurants like Taco Bell. But while you still use a check to pay at some of those places is that still true at Taco Bell?
Taco Bell DOES NOT accept checks anymore. Although they used to accept checks that is no longer the case.
So although some stores and restaurants might still accept checks Taco Bell is not one of them. Quite simply the cost of the machines to accept checks as well as the increased liklihood of being scammed by fake checks has made them go the way of the dinosaurs especially at restaurants and stores.
Checks are still often used to pay bills and for other large transactions but they are not accepted at Taco Bell.
Does Taco Bell Take Paypal?
Paypal is an incredibly popular way to pay for things online. Most e-commerce stores accept Paypal and it allows you to easily accept payments from people or to send money to and from family and friends. But what if you have some money in your Paypal account and want to order something at Taco Bell?
Does Taco Bell accept Paypal?
Taco Bell does not accept normal Paypal payments. However, if you have a debit card from Paypal you can use that at Taco Bell to pay.
Taco Bell does not accept regular payments via Paypal but Paypal offers a debit card that you can use if you wish that is connected with your Paypal account. This allows you to use your Paypal balance to purchase food or items at restaurants and stores just like you would with a normal debit card.
But in regards to making a normal payment with Paypal at Taco Bell… unfortunately you can't do that.
Final Thought
Venmo is a simple and easy way to transfer money to family and friends. Some small businesses even accept Venmo payments. Unfortunately Taco Bell doesn't take Venmo money directly from the app. 
To use Venmo or even Paypal at a Taco Bell, you must have the money from the app transferred over to a Venmo or Paypal debit card to make the purchases. Taco Bell also accepts regular payment methods such as cash, debit card, credit card, or gift cards. 
They also accept touch free payments by using Apple Pay, or Google Pay. If you want to use Venmo to pay for your tacos or burrito, then you have to use a Venmo debit card.