Last updated on May 11th, 2023
*This post may contain affiliate links. As an Amazon Associate we earn from qualifying purchases.
Olive Garden is a popular place to eat since they offer affordable comfort foods that many people enjoy. 
If you decide to go to Olive Garden and eat lunch or dinner you may wonder if you should make a reservation before you go. Does Olive Garden even take reservations? 
Olive Garden does not take "reservations" for anyone who has less than 7 people in their party. If you have more than 7 people you can call and make a reservation.
However, what Olive Garden does offer for 1-6 people is to get on their waitlist. You can get on Olive Garden's waitlist by simply downloading their app and then clicking on the button to "Join the Wait List".
Although being on the waitlist isn't a reservation perse it does work pretty much the same. All you have to do is join the wait list via the Olive Garden app and then when you arrive at the restaurant check in with the host.
Being on the waitlist will reduce your wait time at the restaurant substantially often by 50-75% or more (depending on when you join the waitlist).
The nice thing about doing it that way is you can easily make a "reservation" when you are on the way to the restaurant and easily cut your wait time down to almost nothing.
Of course no one wants to wait which is why Olive Garden now has this waitlist feature. They want people to leave happy and sitting and waiting for 30 minutes (or more) to get a table won't make anyone very happy. So by simply calling the restaurant (if you have more than 7 people) or using the app you can easily make a reservation or join the waitlist and make your experince at Olive Garden even more enjoyable.
Although the "old school" way to make a reservation at Olive Garden was by calling in, most people prefer to use the app to get on the waitlist now instead. Not only is it easier to get a reservation on Olive Garden's app but you also don't have to worry about someone not answering the phone.
When Olive Garden is really busy they might just stop accepting call in reservations or just not answer the phone at all. But if you get on the waitlist via their app you don't have to worry about that at all.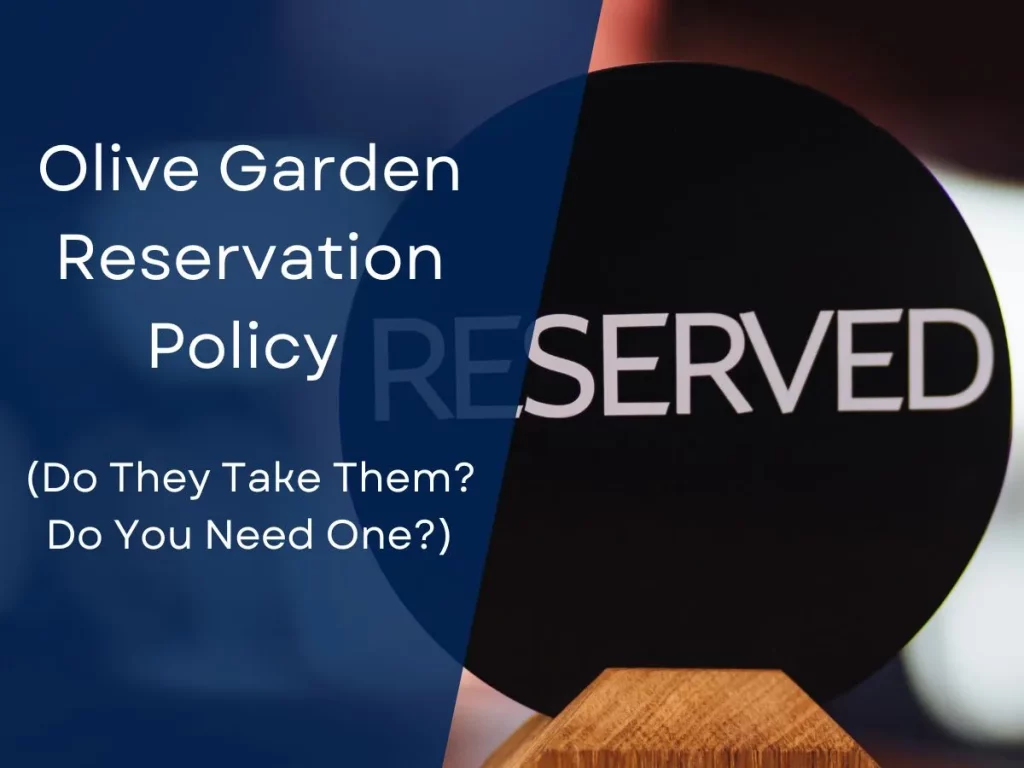 How Does Olive Garden's Wait List Work?
Want to join Olive Garden's wait list on their app but aren't sure exactly how it works? Don't worry you are far from the only one who has been confused by the "wait list" and how it isn't a reservation but it kind of is.
How Olive Garden's wait list works is you will save time and get seated at your table faster by submitting your party name on Olive Garden's mobile app. On the app it will give you the approximate wait time which you can then use to plan your arrival time at the restaurant.
When you arrive at Olive Garden just walk up to the host station and give them your name and tell them you got on the waitlist via their app.
They will confirm the estimated remaining wait time.
If you happen to not hear your name called when your table is ready, or if you are running late, Olive Garden will hold your reservation 10 minutes past the time you said you would arrive at the restaurant. 
When your table is ready, you will also receive a text indicating they are ready to seat you at your table. You will need to go back to the host stand and meet with the host who will then lead you to your table. 
Since this is not technically a reservation Olive Garden hosts will not hold a table for you, but this gives you the flexibility to do other things while waiting on a table to open. You can even go online to check wait times and then put your name on the waitlist if you prefer.
Olive Garden restaurant's busiest times are normally nights and weekends. So if you are planning on going on peak nights (especially Friday and Saturday) when wait times can extend well beyond an hour at some locations you will certainly want to use their wait list service.
Getting on Olive Garden's wait list is also a great option when your personal schedule is packed as well as you can easily get on the waitlist, get things done around the house or errands run and then head to Olive Garden when you are at the top of the wait list.
Of course if you decide you can't wait that long to eat inside of Olive Garden you could always get it delivered as well. Nothing quite beats getting Olive Garden delivered right to your front door!
Do You Need A Reservation At Olive Garden?
So, I have already covered that Olive Garden takes reservations for larger parties and for smaller parties they have a wait list that you can easily get on via their mobile app. But do you really need to go through that hassle?
Is having a reservation at Olive Garden something that you actually need to do?
Although you aren't required to get on the waitlist or make a reservation it will keep you from sitting and waiting a long time for a table to open up. This is especially true if you are going with a lot of people or going to Olive Garden on the weekend. In that case then making a reservation or getting on the waitlist is a really good idea.
If you are headed to your local Olive Garden during a weekday then you likely won't need to get on the waitlist or make a reservation. Even if you have a large group of people. However, if you are headed to Olive Garden on Sunday for lunch or on a Friday night… you will certainly want to have a reservation or be on the waitlist ahead of time.
Does Olive Garden Take Reservations For Large Parties?
If you are having a party with friends or family or just want to get together with a large group at Olive Garden then you may wonder if they take actual reservations for large parties.
Olive Garden does take reservations for large parties but typically they need to be 7 or more people to get an actual reservation. If you have less than 7 people you will want to join the wait list via Olive Garden's app.
If you have more than 7 people then having a reservation is a great idea. You can make a reservation for your party by calling in to your local Olive Garden ahead of time.
One thing to keep in mind is don't try and call 30 minutes ahead of time to get a reservation for a large group of people. If you have an extremly large group (of 20+ people) then calling at least a few hours ahead of time to make a reservation will work far better.
Not only will the restaurant be able to accomodate you much easier but you will also get better service since they will be better prepared for that many people to come in at once.
Does Olive Garden Have Call Ahead Seating?
Making a reservation for Olive Garden is great if you have a lot of people who will be dining with you. But if you have a smaller group can you still call ahead and get seating?
Olive Garden does not have call ahead seating or reservations for smaller groups. What they do have for smaller groups however is that you can join their Wait List.
Unfortunately you cannot join the wait list via phone at virtually any Olive Garden. Instead they will direct you to download their app so you can get your party on the waitlist.
I will discuss the wait list a bit more in the rest of this article but essentially it allows you to skip most (or all) of the wait time at the restaurant. You simply check in on the Olive Garden app and it will tell you the approximate wait time.
Then when you arrive at the restaurant simply head over to the host, give them your name and instead of waiting 30-60 minutes you might only have to wait 5 or 10. If you time it just right you might not have any wait time at all using the wait list!
So if you have a large group of people you can call ahead and make a reservation but with a smaller group the only option that Olive Garden currently has is to get on their wait list via the mobile app.
View your place in line on the online Olive Garden Wait List.
You can refresh it for up-to-the-minute wait list seating information at your local restaurant location. 
Back in the day restaurant hosts used a pencil and a notepad to keep track of seating and reservations. Now Olive Garden actually has an app you can download to your phone. 
You can communicate and track your wait time with the restaurant this way. The app will even save the menu items you ordered so you can pull them up and see them when you choose to eat at Olive Garden the next time.
Actual reservations however are allowed for large parties. Your table will be set and held until you arrive at the restaurant.
Olive Garden does not allow its restaurants to take reservations for small parties. However, while the policy forbidding weekend reservations is not flexible by location, the amount of people you need to make a reservation at Olive Garden varies by location. 
For example, one of the Olive Garden restaurants in New York City requires at least 10 to 12 guests in your party, while one in Parkersburg, West Virginia, accepts reservations for a minimum of 8 people. 
Contact the Olive Garden location you plan to visit for further details.
You can reserve your large party's table at Olive Garden the same day you plan to dine or up to months in advance. Provide the restaurant not only with such basic information as the number of people in your party and the date and time you will be dining, but also whether any members of the group require child booster chairs or a handicapped accessible table. 
When the staff knows such details, they will be better able to accommodate your party. Olive Garden can accommodate your large group for various celebrations such as birthdays, retirement parties, going away parties, anniversaries and homecoming parties. The restaurant has even been known to host wedding rehearsal dinners.
Olive Garden is usually strategically placed close to shopping centers and malls. This ensures their customers won't have far to go to sit down and enjoy a yummy meal after a long day of shopping. 
Their customers can even take a break for lunch and then head back to the retailers that are in close proximity. Or maybe you could fuel up at Olive Garden before starting your shopping journey.
As a leader in the Italian dining segment, in 2019 Olive Garden had more than 850 restaurants and employed more than 96,000 team members. In 2019 Darden restaurants overall employed more than 175,000 team members in nearly 1,700 restaurants. 
Olive Garden is working to make a difference in the lives of people in their local communities. As part of this commitment, Olive Garden restaurants have donated more than 40 million pounds of food to local community food banks across the country.
A Brief History Of Olive Garden
Olive Garden is an American casual dining restaurant chain specializing in Italian-American cuisine. It is a subsidiary of Darden Restaurants, Inc., which is headquartered in Orange County, Florida. 
Olive Garden was originally founded by Bill Darden and Olive Garden started as a unit of General Mills. The first Olive Garden was opened on December 13, 1982, in Orlando. By 1989, there were 145 Olive Garden restaurants, making it the fastest-growing units in the General Mills restaurant division. 
The company eventually became the largest chain of Italian-themed full-service restaurants in the United States.
Olive Garden's original slogan was "Good Times, Great Salad, Olive Garden". This was used when their main advertising focus was unlimited salad. When unlimited soup and breadsticks were added to the menu, the slogan was changed to "When you're here, you're family". 
The new company slogan was inaugurated in early 2013 is "We're all family here"
To many, Olive Garden might be seen as the most readily available and affordable Italian food around. However, Olive Garden actually styles itself as an American-Italian restaurant. 
Not an authentic Italian restaurant, but an Italian themed restaurant.
Olive Garden serves several types of Italian-American cuisine including pasta dishes, steaks, and salads. The company advertises its breadstick product and centers its lunch menu around it. 
Additionally, the company advertises that its soups and sauces are made fresh in each location daily instead of importing them from a factory or outside vendor.