Last updated on May 12th, 2023
*This post may contain affiliate links. As an Amazon Associate we earn from qualifying purchases.
Originating in the St. Louis, Missouri area, the cafe-style restaurant Panera Bread sells sandwiches, soup, salad and of course, bread. They are a bakery that also serves meals. 
Panera is widely considered a fast food restaurant. Unlike other fast food restaurants that serve hamburgers and fries, Panera offers their customers healthier meals and quality food. 
They also sell their menu items for a higher price than most fast food places. Instead of just a dollar or two for a burger you will be spending more like $9 for a whole sandwich.
So is this restaurant chain really considered fast food?
Panera could be considered a fast food restaurant but it's a little bit more like a sit-down restaurant than other fast food places. The correct term for one of Panera Bread restaurants is fast-casual.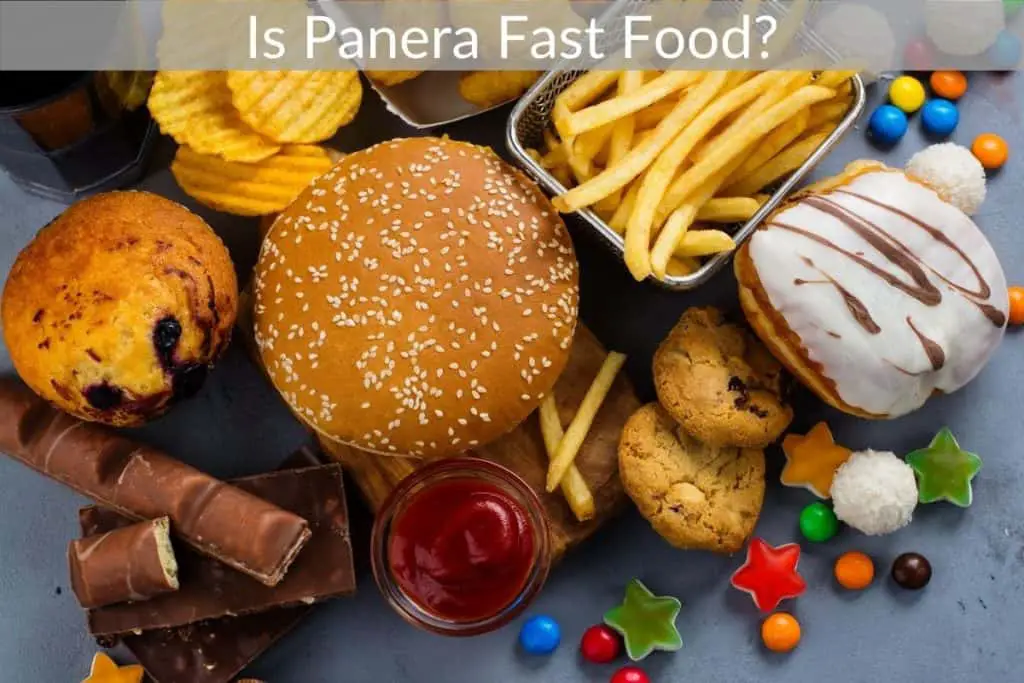 Panera was opened in 1987 by Ken and Linda Rosenthal. They named the restaurant The St. Louis Bread Company.  Panera was the first of its kind featuring its upscale bakery-cafe. 
In 1993 the company was bought by Au Bon Pain Co. for $23 million. They changed the name of the store to Panera, meaning breadbasket. Not only does Panera offer bakery items but also pasta, salad, sandwiches, soups and specialty drinks. 
Recently they even added flatbread pizzas to their menu.
In light of the atmosphere of Panera Bread stores and their menu, they are not a traditional fast food restaurant. Panera's bakery-cafe restaurants are somewhat of a clash between fast food and sit-down and their food is more expensive because of its quality.  
They are indeed a fast-casual restaurant which rank higher than just a normal fast food chain. Their food is quality and healthy and they take great pride in their brand. 
They give their customers fresh ingredients with an experience unlike a normal fast food restaurant.
What Kind Of Restaurant Is Panera Considered? 
When we think of fast food restaurants, we think of quick-service and largely unhealthy meals. Panera Bread is a little more than that, so what kind of restaurant is it considered?
Panera is a fast-casual restaurant meaning that they provide quick service without sacrificing the quality of their food. They also feature a comfortable dining area.
On Panera's website,they explain that it was all started by a loaf of sourdough bread starter from San Francisco and a dream of putting that load in every arm. 
They state, "While our business has expanded well beyond St. Louis since then, that same sourdough starter is still used in our iconic sourdough bread and the craft of baking bread fresh each day remains at the heart of Panera Bread. Each day our trained bakers fill our bakery shelves with delicious freshly baked cookies, pastries, bagels, and a range of breads from focaccia to classic baguettes." 
Their dining area is cafe-like, inviting customers to spend a more lengthy time eating at their tables than a fast-food place. Panera has the first of its kind and remains in the top ten of quick-service and fast casual dining in America.
 It was even listed first ahead of the popular food chains of Mcdonalds, Starbucks, and Subway. Panera bread is a fast casual restaurant pleasing guests with their nicer and comforting dining areas, and delicious and fresh food.
Is Panera The Healthiest Fast Food? 
According to what we already know from the first part of this article, let's replace the word fast food with fast-casual and compare it to the competitors. Is Panera Bread the healthiest fast-casual food?
Panera is the healthiest fast casual food. Their menu features a number of healthy choices and fresh ingredients.
Panera Bread placed top of the healthy list over many fast food restaurants. Fast food in general isn't the healthiest option, but when you're eating at a fast food place and choose Panera, you have chosen wisely. 
Prepped ahead of time, Panera's menu items are definitely a better choice than burgers and fries. However, some of their food may contain more calories than other fast food places. 
So if you are counting those calories, eat smaller portions for a healthier diet. 
Panera offers their guests half-sized portions so you don't overeat on your calorie intake. Now some things on the menu at Panera aren't all that good for you such as their sticky buns or cheese danishes. It may be tempting to see these on the counter but if you are looking to be healthy, stick with a good sandwich or salad. 
All in all, Panmera has a wider selection of food that is better for you while still being tasty.
What Is Considered Fast Food? 
Okay, so we said that Panera isn't necessarily fast food. It's in between a sit-down and fast food restaurant called a fast-casual. It may be helpful to know what a fast food restaurant is so you can better understand why Paneras isn't one. 
So what is considered a fast food?
Fast food restaurants are those that serve food that can be cooked fast such as frozen, preheated, or precooked ingredients and served to the customer in a package form.
Fast food is often fried and loaded with saturated fats and sodium. This type of food isn't healthy. Fast food places also serve mass-produced meals with a lot more calories than home cooked meals. 
This type of restaurant focuses more on speed of service rather than quality food so they can serve large quantities of people very quickly.
So back to Panera. Fast food doesn't really describe this restaurant and that is why fast-casual is used instead. Fast-casual restaurants typically are more upscale than regular fast food and their ingredients are labeled as organic or fresh. 
You will notice that the quality and even the prices of Panera food is better than say Mcdonalds, further reiterating the fact that it is not fast food.
Final Thoughts
Panera is not a fast food restaurant. A fast food restaurant focuses more on serving their food quickly rather than the quality of the food they serve. Panera Bread likes to offer both speedy service and fresh ingredients. 
The correct title for Panera Bread is a fast-casual restaurant because it is a more upscale place to eat. Panera's dining area is nicer than a fast food restaurant and their food is better quality and healthier than what you would consider normal fast food.