*This post may contain affiliate links. As an Amazon Associate we earn from qualifying purchases.
Panera offers their guests many healthy food options like their delicious sandwiches, salads, and soups (specifically their to-die-for bread bowls). These meals are made with healthy ingredients which the company prides themselves on. 
With all of these fresh ingredients, Panera prices are more expensive than normal fast-food restaurants. After enjoying one of Panera's meals you glance at the check wondering how pieces of bread and soup could be so much money. 
The prices of the simple sandwiches are pretty close to a sit-down restaurant. There are a lot of theories on why this food food chain is so pricey. But why exactly is Panera so expensive?
Panera is expensive because the food quality is better, they pay their workers more, and they are typically in more upscale locations.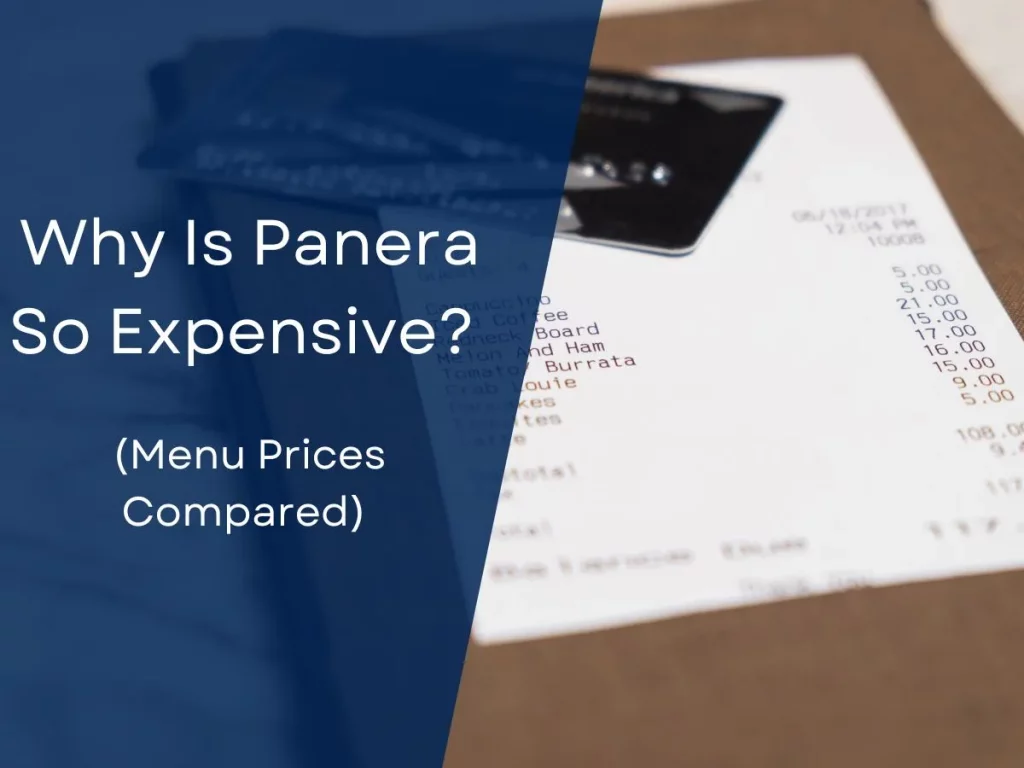 Of course not all Panera locations are upscale and not all of their food items have better quality than other restaurant chains. However, in general this is true.
In the section below I will be giving an exact comparison between Panera and other fast-casual chains that you can visit.
Several other things may factor into why Panera is so expensive from fresh food to people just naturally spending more money there.
For a fast food restaurant where you can order a simple sandwich, soup, or salad, prices seem a bit high. However, there are so many things that can affect the prices of a business. Let's talk about a few of them. 
First of all, the Panera employees make more than most other fast-food chains employees do. Panera likes to think that they are a "higher chain" of fast food so they pay their employees accordingly and also offer them better benefits than other fast foods restaurants for which they should be applauded. 
Hard work should be rewarded.
Marketing could have an effect on the prices of Panera food as well. To be known they need to make themselves known. So every year a large sum of money goes towards marketing. 
Now, most people know what Panera is but sometimes they need to be reminded that they are there if they want a healthier meal and that they are available to them. 
It is very costly to do all sorts of marketing from ads digitally, in print, or on TV. Panera spends a lot of their money on this which results in higher prices.
When you look at the whole picture, a business can charge whatever they want for their food. For people buying the food, if they know it is good quality, they would rather pay more money for it than to have poor quality. It is expensive for Panera to accumulate all the ingredients to make their meals so if they charged less for their quality food they would probably go out of business. 
If they were charging too much money they would see a loss in customers. They do the research and know what the food is worth and so they can choose to make their foods however expensive they want.
Panera Prices Vs Other Fast Food Chains
Panera uses healthier ingredients than most other fast-food restaurants. But that doesn't mean that they are automatically charging far too much. It's important to actually compare the pricing at Panera with the prices for similar food items at similar restaurants. 
When looking at Panera Bread prices and calling it expensive it is important that you compare it with other fast food and fast-casual chains. So below I will give the pricing for some of Panera's salads and soups as well as similar menu items at other places. 
Panera Prices Vs. Chick-fil-A Prices
Both Panera and Chick-fil-A have similar sized tasty salads and soups. Although Chick-fil-A's salads and soups might not be considered as healthy as Panera's, how do they stack up when it comes to pricing? 
The three specialty salads at Chick-fil-A range in price from $9.39 to $9.59. 
The eight salads at Panera range in price from $7.99 to 11.99
With Panera's salad options you do get to choose a side (bread, apple, or chips) but coming in at $1-2 dollars more than Chick-fil-A's specialty salads certainly does mean that Panera is more expensive when it comes to salads. 
How do Panera and Chick-fil-A compare in regards to pricing with their soup options? 
Chick-fil-A only offers one type of soup which is chicken noodle. It is $3.75 for a cup of soup and $5.69 for a bowl. 
Panera offers 6 different soups to choose from. For a cup of soup Panera charges between $5.79 and $6.29 and between $7.29 and $7.99 for a bowl of soup (not their bread bowl, just a normal bowl of soup). 
When it comes to soup Panera is again considerably more expensive for similar sizes than Chick-fil-A at $1-$2 more per bowl or cup of soup. 
One thing that Panera certainly has going for it is options. They not only offer far more in the number of different soups and salads that you can order from them but they also offer many different customizations as well. 
Being able to have your soup in a bread bowl or get a side of bread to dip in your creamy tomato soup (or whichever type you enjoy) are options that Chick-fil-A simply doesn't have. 
And let's be real here. We all know that eating the bread bowl or dipping Panera's delicious focaccia bread into your favorite soup helps set the chain's soups apart from the competition. 
What about when we compare Panera's signature mac & cheese with the mac & cheese at Chick-fil-A? How do those prices compare? 
Chick-fil-A's Mac & Cheese costs $3.15 for a small cup and $3.95 for a medium. 
Panera's Mac & Cheese is $6.19 for a small and $9.59 for a large cup
So again, Panera is considerably more expensive than a similar menu item at Chick-fil-A. However, when it comes to the Mac & Cheese this really isn't fair based on the size of these two items. 
While the Mac & Cheese at Chick-fil-A is intended to be a side, the dish at Panera is designed to be an entree. So although Panera seems to be charging outrageous prices when compared to Chick-fil-A in reality they are again charging $1-$2 more when looking at similar amounts. 
Panera Prices Vs. Chipotle Prices
So we compared Panera vs Chick-fil-A and determined that in general Panera is a bit more expensive. But what about when compared to another chain like Chipotle? 
A salad at Chipotle ranges in price from $8.65 to $10.40 depending on which protein you get as a topping (steak is the most expensive). 
The eight salads at Panera range in price from $7.99 to 11.99
So if you are getting chicken on your Chipotle salad it will be cheaper than all of Panera's salads except the Greek Salad (which is $7.99). If you get steak on your Chipotle salad then you will be about the same price as most of Panera's salads (although still cheaper than their most expensive one). 
So when comparing Chipotle and Panera in regards to pricing again Panera is a bit more expensive. 
Chipotle does offer many customization options for their salad when it comes to toppings but the salad will be very similar to their bowls or burritos. Whereas, Panera has eight different salads with tons of different flavors that you can choose from. 
So overall, Chipotle is cheaper than Panera when it comes to salads but again Panera has more options for you to choose from. 
How Can I Eat Cheap At Panera?
Since we compared it with a few similar restaurants above, there is really no denying that Panera is expensive. Their food is high quality and also healthy making their food a bit pricier than the competition. 
But what if you absolutely love Panera's Cheddar Broccoli Soup Bread Bowl (I mean who doesn't)? 
Is there any way that you can eat at Panera and still save a bit of money while doing it?
You can eat a bit cheaper at Panera by signing up for MYPanera Rewards. On the app you can add your birthday, refer friends, buy discounted gift cards, sign up for their newsletter, and more! That's really the only way to save money there. 
For the most part, the restaurant chain is sort of expensive. One of the reasons why is because Panera also changes their menu often. They introduce new products and seasonal items all of the time which means that they have to charge more. 
For these new items to be added to the menu, there are a series of things that need to be done first such as new vendors need to be found, new training for staff, as well as new ads. 
By changing their menu however, this ensures that Panera is always fresh and their guests can go there for a unique experience and food they can't find at any other fast-casual chain. 
Panera also chooses to make their own delivery instead of using DoorDash or Grubhub. This means they have to invest in an app, hire delivery drivers, and create a process in which to do the delivery. 
By doing this, Panera can stay in control of their deliveries without paying a third party to do the work for them. More and more people want food delivered to them and Panera has answered. 
They invested a lot into a delivery system which could account for the fees and pricier food. 
Visit WalletHacks for more tips on how to save money at Panera.
Is Panera A Healthy Choice?  
For being a fast food restaurant, Panera's food seems to be the best "healthy" option. Their prices reflect this as well since healthier foods cost more than unhealthy foods.
 Are their menu items really all that good for you?
Panera is a decently healthy restaurant especially when compared to other fast food. Since they use fresh ingredients the menu items are considered to be healthy.
Panera is also considered a "healthy brand". They take great pride in their ingredients which are more expensive. Quinoa is used instead of rice which is a cheaper product. 
By providing more expensive products to their customers this causes the price of the menu item to increase as well. It is known that people will spend more money on something that is healthy so the prices reflect the fact that Panera knows their customers will pay more for their food.
Healthy products often come from farmers or organic companies so they can be difficult to purchase making the prices of food for the restaurant more expensive.
They also have their own line of grocery products that can be purchased in your local grocery store and be enjoyed at home. Making new grocery products cost the company money and to make that money back, they will need to raise pieces on the food. 
Their meals do contain high-quality ingredients and customers will spend their money knowing it is a "healthier" food choice.
Is Panera Actually Fresh? 
Panera is somewhere in between a fast- food restaurant and a sit-down one especially in the prices. But did you know it's really a bakery? They make their baked goods daily (bread, bread bowls, etc.).
If this is the case, is Panera food actually fresh?
Panera food is fresh. They bake their bread every day and the Panera chefs use fresh ingredients in every order.
Bakeries often have a lot of waste and Panera is considered a bakery. They make fresh-baked products making their delicious food even better tasting and better for you to eat. 
Panera stores need to overstock on their bread to meet their customers' needs. But if only a couple people order that bread that day they have to throw the rest away. 
It's something they do to be prepared but can cost the company money. It's a risk they are willing to take.
Panera also has produce in stock so they don't just offer cooked food but you can buy things like milk, eggs, etc. Panera chefs are often using these fresh ingredients when they make your food and fresh food is more costly. 
If these ingredients are used properly they get thrown away causing the company a lot of money in waste. Also storing all the fresh food requires the right kind of equipment and space. 
Everything comes at a cost and Panera's ingredients are just expensive.
Final Thoughts
When talking about Panera you have probably compared it to a more expensive restaurant. This means that if the public knows they are expensive then they can be just that because their customers know how much they will be spending when they walk through those doors. 
Panera is more casual than other restaurants but their prices are equivalent to some of them. Yet, Panera customers know that they will be spending money on their sandwich, soups, and salads and are fine doing this since they are getting high quality food that has been made fresh. 
Because people know Panera is expensive and because of their ingredients they can have expensive prices.