Last updated on May 11th, 2023
*This post may contain affiliate links. As an Amazon Associate we earn from qualifying purchases.
When you go out to dinner, it should always feel like a celebration. You can be going to celebrate a birthday, a promotion at work, leaving a toxic relationship, or just celebrating that you made it another day! 
Whatever your reason for celebrating with going out to eat, if you prefer to celebrate with alcohol, it's important to know whether or not the restaurant you are going to serves it. 
Olive Garden is a popular dine-in chain that serves great food at great prices. They serve mainly pastas and other types of comfort food that everyone seems to enjoy. 
Olive Garden is one of the best restaurants that not only offers comfort food but alcohol as well. 
Olive Garden has an extensive alcohol menu. There is something on the drink menu for everyone. There are red wines for those who prefer a dry taste and white for those who like their drinks sweet.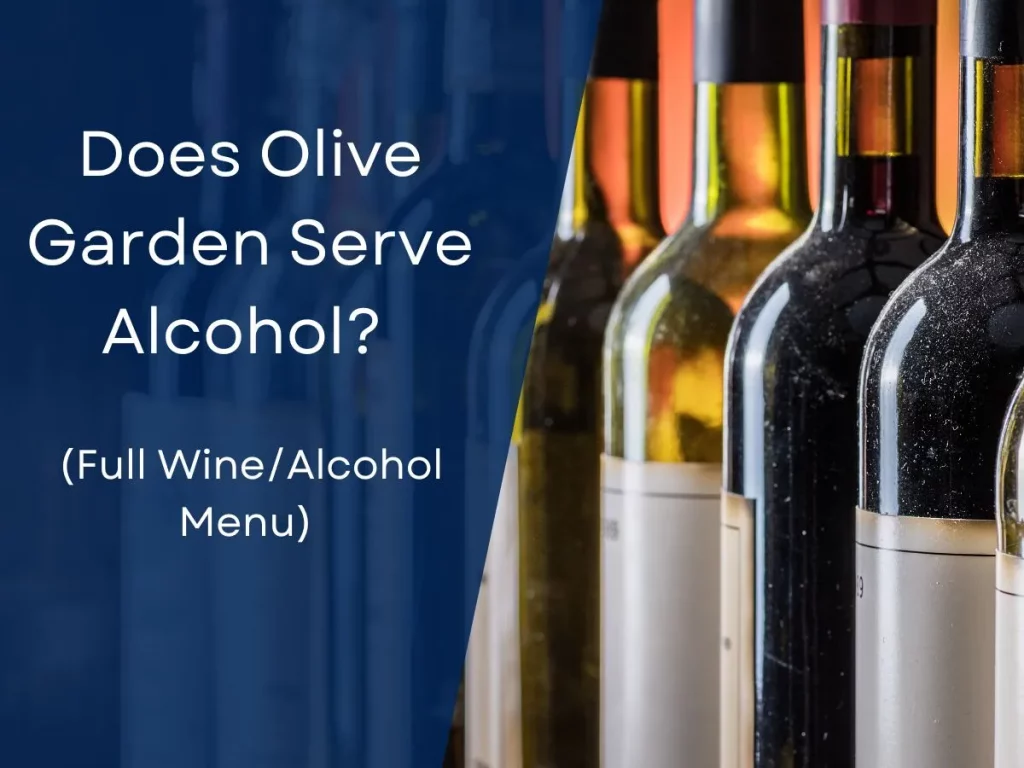 Here is the current full alcohol menu at Olive Garden. *Note: These might vary slightly depending on the Olive Garden location that you are visiting. 
Olive Garden's Featured Wines 

Moscato Primo Amore
Pink Moscato Blend Confetti
Sweet Red Rosato Rosso Dolce
Red Blend Porta Vita

Red Wines

Pinot Noir Meiomi
Merlot Beringer
Chianti Classico Rocca delle Maci
Cabernet Robert Mondavi Private Selection
Cabernet Dreaming Tree
Cabernet Coppola Diamond Collection
Tuscan Red Blend Head to Head
Pinot Noir Prophecy

White Wines

Moscato Castello del Poggio
White Zinfandel Sutter Home
Riesling Chateau Ste. Michelle
Pinot Grigio Cavit
Sauvignon Blanc Starborough
Chardonnay Château Ste. Michelle
Rose' Head to Head
Pinot Grigio Kris
Chardonnay La Crema

Specialty Drinks

Italian Margarita
Italian Rum Punch
Blue Amalfi
Peach Bellini
Strawberry Bellini
Amaretto Sour
Spiked Strawberry Lemonade

Beer

Bud Light
Coors Light
Michelob Ultra
Miller Light 
Most Olive Garden locations will have a full bar where you can sit and order drinks while waiting to be seated for your meal. Of course while waiting you can enjoy all of the great things mentioned above or simply order a fountain drink to sip on while waiting. 
Not every location will offer the same alcoholic beverage options. Some Olive Garden restaurants offer house wines specific to their location as well. You can find the full wine list on Olive Garden's website. 
You can also order a bottle of wine to go with your Olive garden pick-up or delivery orders. However, this is only available at certain locations and areas of the country.
When placing your order after you add your favorite dish to the cart you can add a bottle of wine at that time (if you wish).
One of the best things to order with your pasta dish is a nice wine. That is why Olive Garden gives so many different wine options for you to choose from. The wait staff will often give out free samples of their wine to anyone that asks if you aren't sure which wine of theirs you prefer. 
If you aren't a wine fan then you can order one of the many Italian-inspired cocktails that Olive Garden offers. These signature cocktails are Olive Garden's unique take on popular alcoholic drinks. 
A popular choice is the Italian Rum Punch (a perfect blend of smooth rum in a delicious rum cocktail). Another popular drink that is a good idea to try is the Amaretto Sour (a nice blend of amaretto liqueur and sour mix). 
Always ask to see a menu before assuming a certain wine or alcoholic drinks is at the location you are visiting.
What Is The Best Wine To Drink At Olive Garden? 
If you have just started drinking wine or are expanding your palate, the choices at Olive Garden can seem overwhelming. If you were to go to a fancy restaurant, it would have a sommelier there to help educate you on which wine pairs best with what foods. 
If you are enjoying fish for dinner, Pinot Noir pairs best. If you love Olive Garden's pasta entrées, you can enjoy a variety of wines that will pair well. 
If you are dining at an Olive Garden restaurant, unfortunately, there is no sommelier to help you pair the perfect wine with your dinner. The descriptions that Olive Garden offers for their wine menu don't have very many details on it either which can make it difficult to choose. 
The best wine to drink with your Olive Garden dinner depends on your palate. Do you prefer a slightly effervescent red wine white wine? What are you eating for dinner? 
All of these things need to be taken into account when you are choosing a wine at Olive Garden. Below I will cover some of the wine pairings that will help you have the best meal at Olive Garden that you have ever had. 
Best Olive Garden Wine Pairings 
Not all wines taste great with fish or beef dinners. Here is Olive Garden's breakdown of what red and white wines pair best with their different dishes.
Best Wine For A Chicken Dinner
If you have decided to enjoy one of Olive Garden's chicken dinners (like their chicken alfredo), you can pair it with the red wine options of Merlot or the white wine choice, Chardonnay. 
If you prefer the Merlot, Olive Garden serves the Merlot Beringer. The Merlot Beringer offers hints of plum and brown spice and has a taste of boysenberry, blackberry, and blueberry finish on your palate. 
If you prefer the Chardonnay, Olive Garden serves two different types: Chardonnay Château Ste. Michelle and Chardonnay La Crema. 
Both Chardonnays are great to pair with any of the grilled chicken dishes Olive Garden offers. 
Best Wine For A Beef Dinner
If you are a beef eater, the wines that pair the best with your dinner will be the red choice of Cabernet or the white option, Chardonnay. Olive Garden has three different options of Cabernet that you can enjoy with your beef dinner: Cabernet Robert Mondavi Private Selection, Cabernet Dreaming Tree, and the Cabernet Coppola Diamond Collection. 
You can also choose from the two Chardonnays Olive Garden has to offer as well. 
Best Wine For A Fish Dinner
Olive Garden suggests that if you are enjoying a fish dinner that you pair it with either the red Pinot Noir or the white Sauvignon Blanc. 
There are two different options to choose from if you prefer the base of Pinot Noir. You can choose from the Pinot Noir Meiomi or the Pinot Noir Prophecy. 
If you prefer white wine, then the Sauvignon Blanc Starborough will be a great pairing with your fish dinner. 
Best Wine For A Pasta Dinner
Pasta and its wheat base are best paired with the red option of Chianti Classico and the white option of Pinot Grigio. There are two different options of the white wine Pinot Grigio available: Pinot Grigio Cavit and Pinot Grigio Kris. 
You can enjoy the red wine option of Chianti Classico Rocca delle Macie, which some have even declared as the best wine Olive Garden has to offer. 
Though the servers may not be experienced sommeliers, they are still knowledgeable about the wine that Olive Garden serves. If you are still stumped as to what wine to drink with your dinner, you can always ask your waiter what options of wine are best. 
What Non-Alcoholic Beverages Does Olive Garden Serve? 
There are several reasons why an alcoholic drink at dinner might not be ideal for you. Whatever your drink preferences, there are still drinks at Olive Garden that everyone in the family can enjoy. 
There are many delicious non-alcoholic drinks that you can choose from at Olive Garden. Some drinks without alcohol on the Olive Garden menu are: 
Various Soft Drinks
Raspberry Lemonade
Classic Lemonade
Mango-Strawberry Iced Tea
Bellini Peach-Raspberry Iced Tea
Fresh Brewed Iced Tea
Cappuccino
Lavazza Espresso
If you are looking for a sweet drink without alcohol, you can order one of Olive Garden's many flavors of iced tea. You have the option of original iced tea, raspberry, mango-strawberry, or bellini peach-raspberry tea.  
You can also choose a classic or raspberry lemonade for that sweet-tasting drink as well. If you like your coffee, you can order a cappuccino or Lavazza espresso. 
If you prefer soda, Olive Garden carries Coke products. 
Olive Garden currently only offers complimentary refills on their fountain drinks, Lemonades, and Teas. They don't offer free refills on the cappuccino or the espresso. 
Final Thoughts
Darden restaurants is the parent company of
Olive Garden
Longhorn Steakhouse
Cheddar's Scratch Kitchen
Yard House
The Capital Grill
Seasons 52
Bahama Breeze
Eddie V's 
At each of these dine-in chains you will be able to order the alcohol or non-alcoholic drinks of your choice. Many of these restaurants will have different alcoholic choices based on what pairs the best with the type of food that they are serving. 
Specifically, Olive Garden has a wide variety of alcoholic products that you can try. Whether you prefer red or white wine, Olive Garden has your palate covered. 
You can also order some specialty alcoholic drinks in addition to beer. 
Next time you go to Olive Garden and are looking for a different drink to try, be sure and ask one of the Olive Garden servers what wines they suggest.