Last updated on May 11th, 2023
*This post may contain affiliate links. As an Amazon Associate we earn from qualifying purchases.
Whether you are taking your significant other out for different special occasions (like Valentine's Day, their birthday, or an anniversary) or just want to go somewhere nice for a date night for no special reason, finding the best restaurants for a romantic dinner in the Phoenix area can be difficult.
Part of the difficulty when trying to find a romantic place for dinner is that everyone has a different idea of what constitutes being romantic. Plus everyone is on a different budget.
Thankfully there are many different Phoenix restaurants that you can try that won't break the bank (too badly) but will still be a great place for some romance.
When my husband and I go out for a nice romantic dinner we will often try and find someplace in Scottsdale, Gilbert, etc. where not only is the restaurant nice but also the area is nice to take an after-dinner walk or to enjoy browsing some local shops after eating as well.
Downtown Scottsdale is great for this type of romantic dinner as you can walk along the cancel afterward or check out some of their local shops or picturesque spots (like the "LOVE" sign for example).
In this list, I will give some of the romantic dinner restaurants that we have personally tried out over the last few years for our special meals. But remember, what we like might be a bit different than what you and your spouse or boyfriend/girlfriend would find enjoyable.
To help with that I have given the website for each of Phoenix's most romantic restaurants so you can check out the menu, location, and ambiance for yourself.
1. Hilton Phoenix Tapatio Cliffs Resort Dining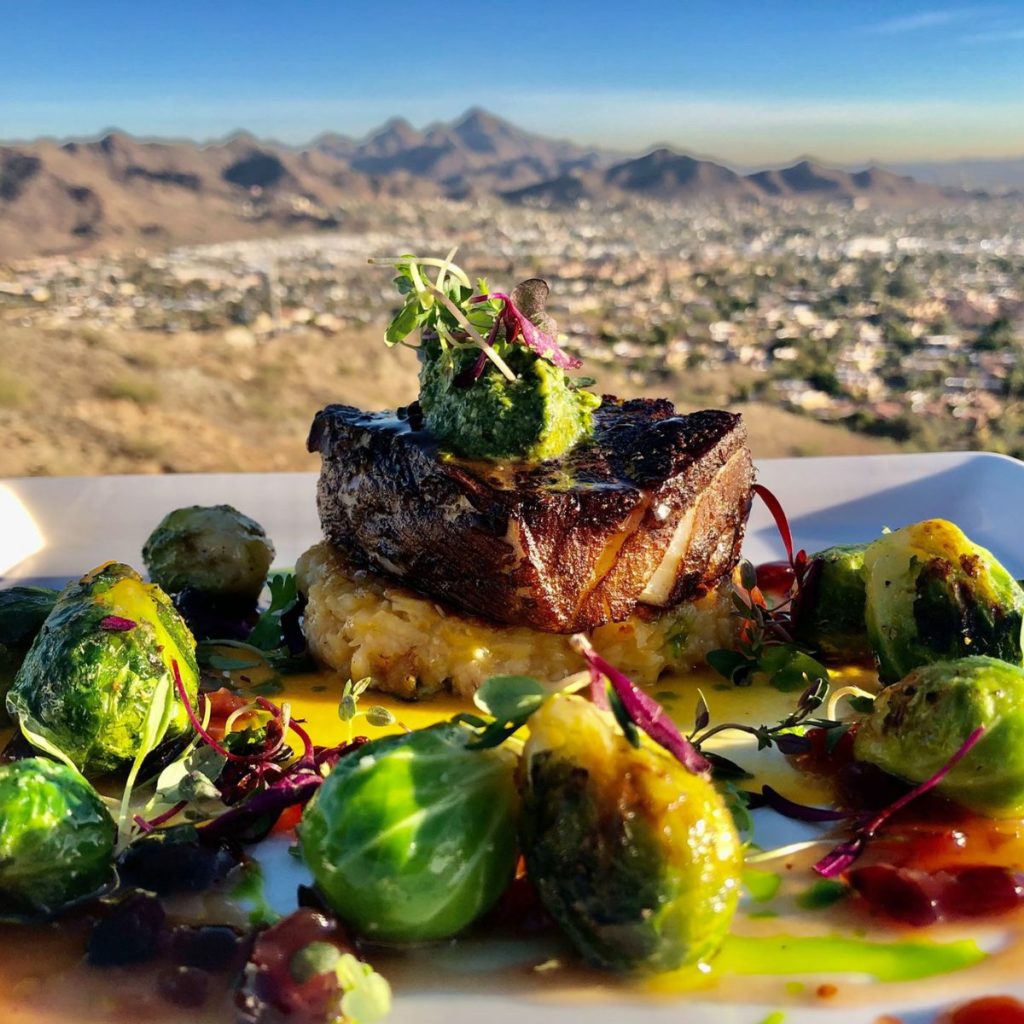 I know having a hotel dining area seems odd as most of them aren't very romantic but this one is very different. They have various rooms (and different food in each) for romantic dining or casual dining including:
Different Pointe Of View
Pointe In Thyme
Cascades Cafe
All three of these restaurants offer some of the city's most spectacular views but you will miss the night view if you choose the Cascades Cafe (since they close at 5 or 6 pm).
Different Pointe Of View
This romantic dining option will knock your socks off not just with the view but also with their award-winning food. This restaurant is the longest consecutively awarded AAA Four-Diamond restaurant in the Valley so you can rest assured the food will be delicious.
But that award-winning food does come with a price tag.
Their menu features entrees at this award-winning restaurant that range in price from $38-$68. So while it isn't the most expensive romantic restaurant in the world it is far from cheap.
They do have an extensive wine list that you can choose from with your meal so if you enjoy a nice bottle with your meal they should have something that you can enjoy.
From your seats at this restaurant, you will get a terrace view of the entire Pheonix area, and whether day or night that view is not only spectacular but also quite romantic.
Pointe In Thyme
If you want to enjoy the amazing views this resort has to offer but can't afford the prices of Different Pointe of View then Pointe in Thyme is a great option. Their dinner menu entrees range in price from $16 to $38 so it is far more reasonable.
This restaurant is quite romantic but you don't get the spectacular views while eating that you do when eating at the restaurant above. However, after eating you can certainly walk the grounds and enjoy the beautiful views.
Cascades Cafe
The Cascades Cafe is more casual (but you can still enjoy the amazing mountain views) however they are only open until 5 or 6 pm (depending on the day) so you can't sit and enjoy the city lights at this option. Their menu prices range from $10-$15 for a meal (sandwich or salad with sides).
Although the Cascades Cafe is more of a casual dining experience you will love the view that you get to enjoy at any of these dining venues. The views during the day are spectacular since this resort and its restaurants are nestled into the mountains but the views at night are really where the romance shines through.
Location: 11111 N 7th St, Phoenix, AZ 85020
Website: Pointe Hilton Tapatio Cliffs Resort Dining
2. Hermosa Inn: Lon's Restaurant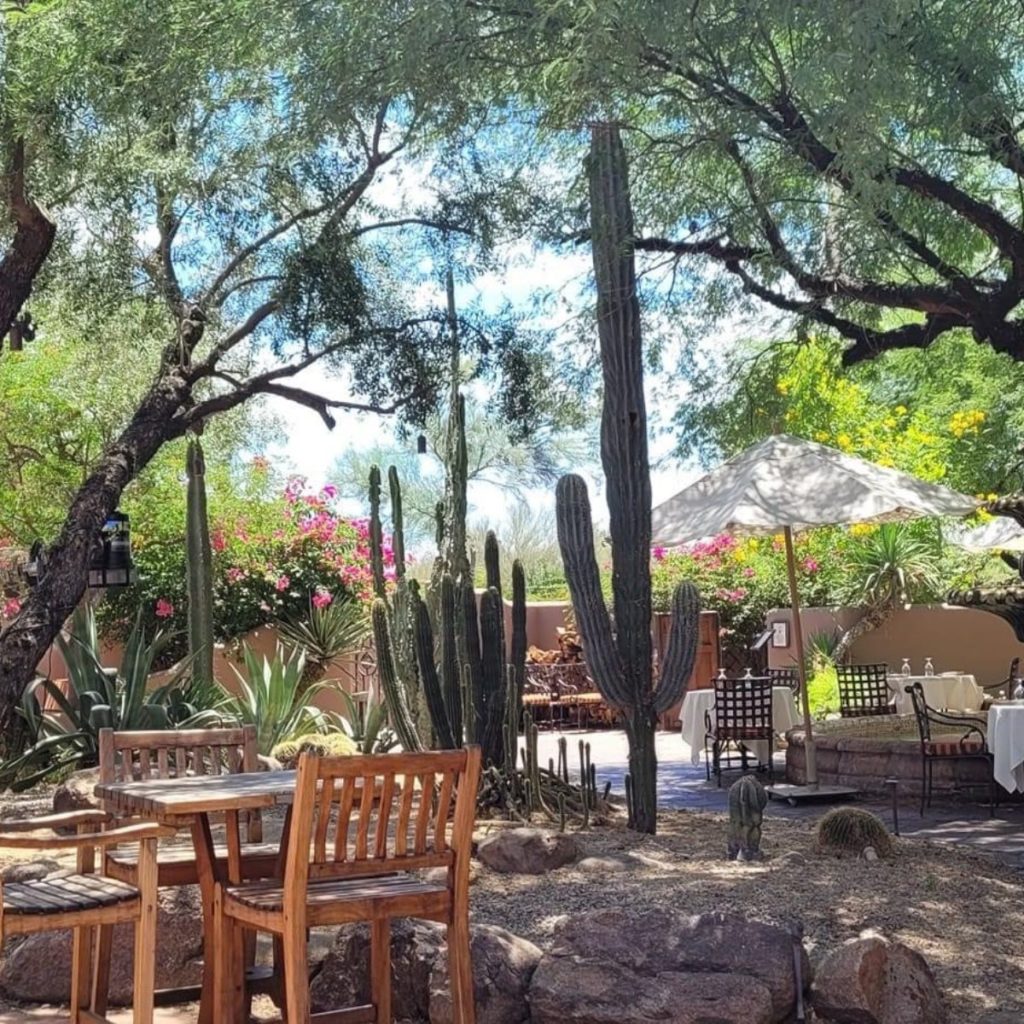 I don't know what it is about the Pheonix area but some of the most romantic restaurants seem to be at the resorts of boutique hotels. And Lon's restaurant at the Hermosa Inn is no different.
Lon's serves a variety of delectable bites including steak, seafood, chicken, duck, and more with sides that are delicious as well.
My husband got the dry-aged pork chop pastrami the last time that we were there and he raved about it for days. I got the two-wash chicken which again was a meal that did not disappoint. Their dinner entrees range in price from $32 to $59 but they do offer fish that is at market prices (so ask your server for the current price before ordering.
Although this restaurant is nice and also romantic it doesn't have some of the views that the restaurants mentioned above. So if you want views with your meal then I would recommend going there rather than Lons.
Location: 5532 N Palo Cristi Rd, Paradise Valley, AZ 85253
Website: Hermosa Inn: Lon's Restaurant
3. T. Cook's at Royal Palms Resort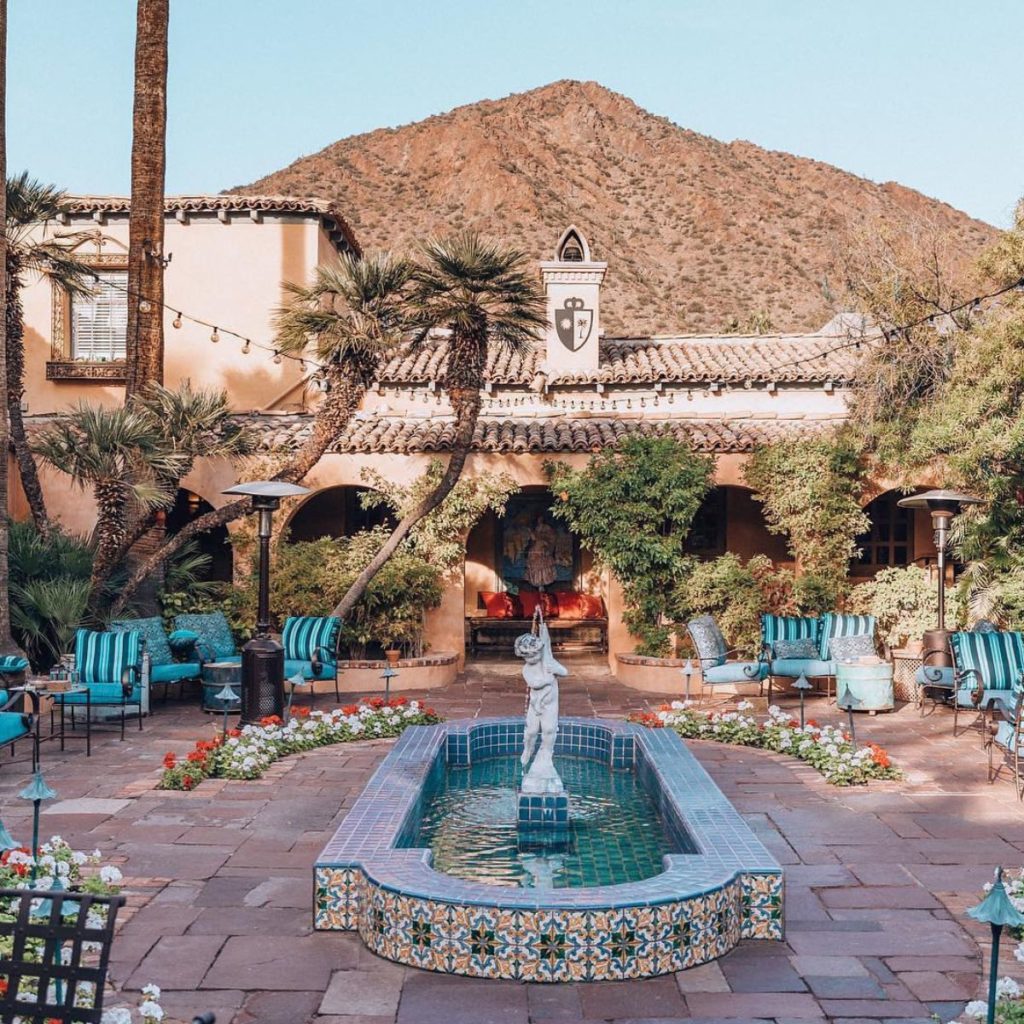 T. Cook's is another restaurant that you have to try your next night out on the town. Their amazing food (my husband loves their tenderloin and ribeye) is second to none and they have many choices as well.
I have tried their bolognese (it's delicious) but they also had salmon that looked heavenly (the table next to us got that).
Their outdoor patio is nice during the spring or fall (ok early spring and late fall) but it gets pretty hot out there the rest of the year. The restaurant offers amazing mountain views and the patio is pretty secluded so it is a nice change of pace from the hustle of the rest of Pheonix.
For dinner, their menu prices range from $36 up to $65 but they also offer brunch that is a bit cheaper if you are there earlier in the day.
Location: 5200 E Camelback Rd, Phoenix, AZ 85018
Website: T. Cook's at Royal Palms Resort
4. Joe's Farm Grill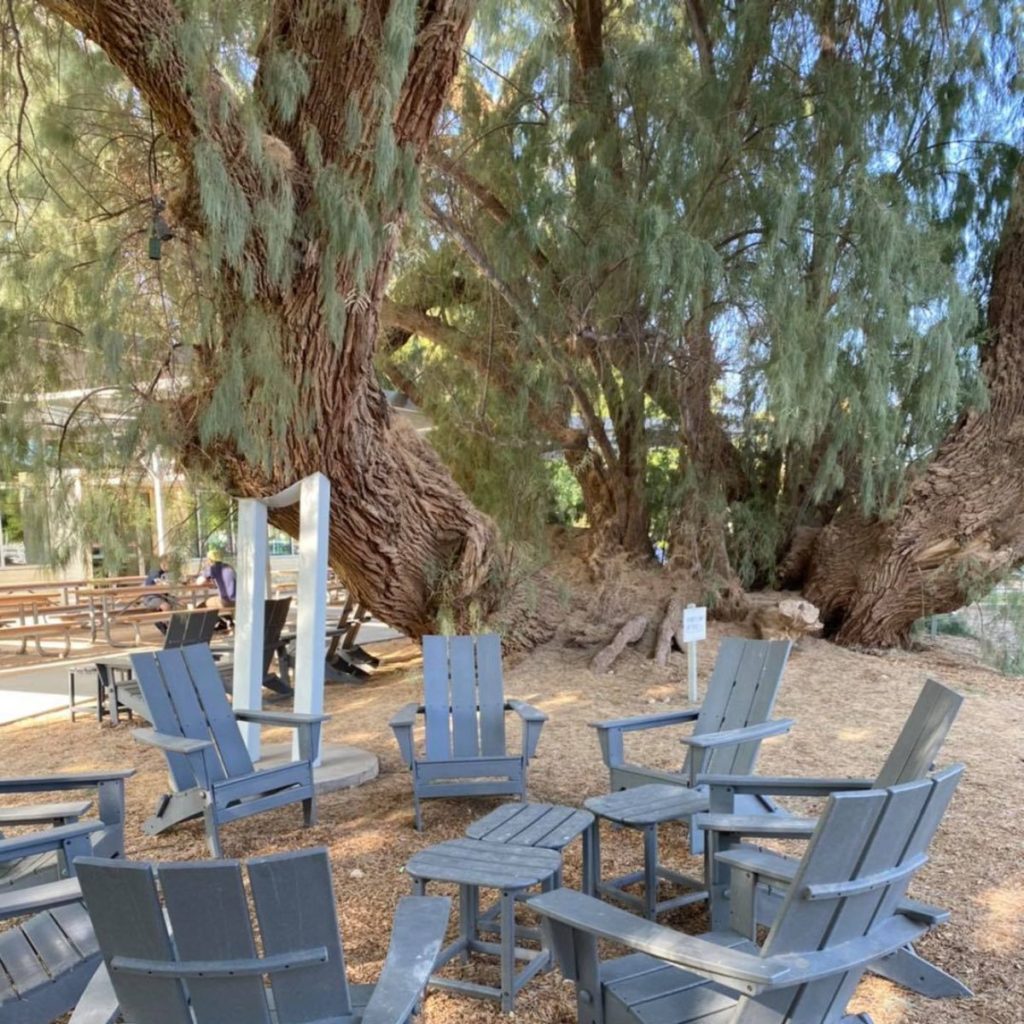 So this restaurant doesn't meet the normal look and feel of a romantic restaurant if you eat inside in the dining room or go there during the day. However, if you go there for dinner and in the cooler part of the year eating outside on their back patio can be quite romantic.
Don't go in expecting this to be a traditional romantic restaurant though as it is more casual dining than any of the other places I have mentioned on this list. However, it is also far more budget-friendly.
For dinner, their menu items range in price from $9 to $22 so it is significantly cheaper than any other option mentioned. That is why this is my husband and my go-to spot for a romantic date night that won't make us hate ourselves for spending so much.
Again, if you have to sit inside because of the heat then this won't be a romantic spot at all. However, sitting outside under the dimly lit low-hanging trees is the best way to enjoy a romantic evening at this restaurant.
All of the food here is delicious and their ingredients are always fresh. So as long as you don't go in wearing a suit or tux (and expecting a restaurant that style) it can be a great choice.
Location: 3000 E Ray Rd, Gilbert, AZ 85296
Website: Joe's Farm And Grill
5. Board & Batten
Board and Batten is a nice romantic restaurant mainly because of the outside patio and garden area where you can eat. However, one major issue with this restaurant is that they close at 8 or 9pm (depending on the day). So if you want to celebrate Valentine's Day with a late meal this won't be the place for you.
Their dinner meals are reasonably priced at $22-$35 so you won't have to worry about spending a fortune (although it certainly wouldn't be considered cheap).
Another thing to consider with this restaurant is the menu is always changing based on the season and the chef's preferences. So if you get something you love one time when you are here they might not have it the next time.
Personally I like that as it makes each visit a new experience.
The last time we went to this place I had the Chicken Milanese and it was absolutely spectacular. However, my husband said the steak wasn't his favorite.
Location: 4012 E. Palm Street Mesa, AZ 85215
Website: Board & Batten
6. Cafe Monarch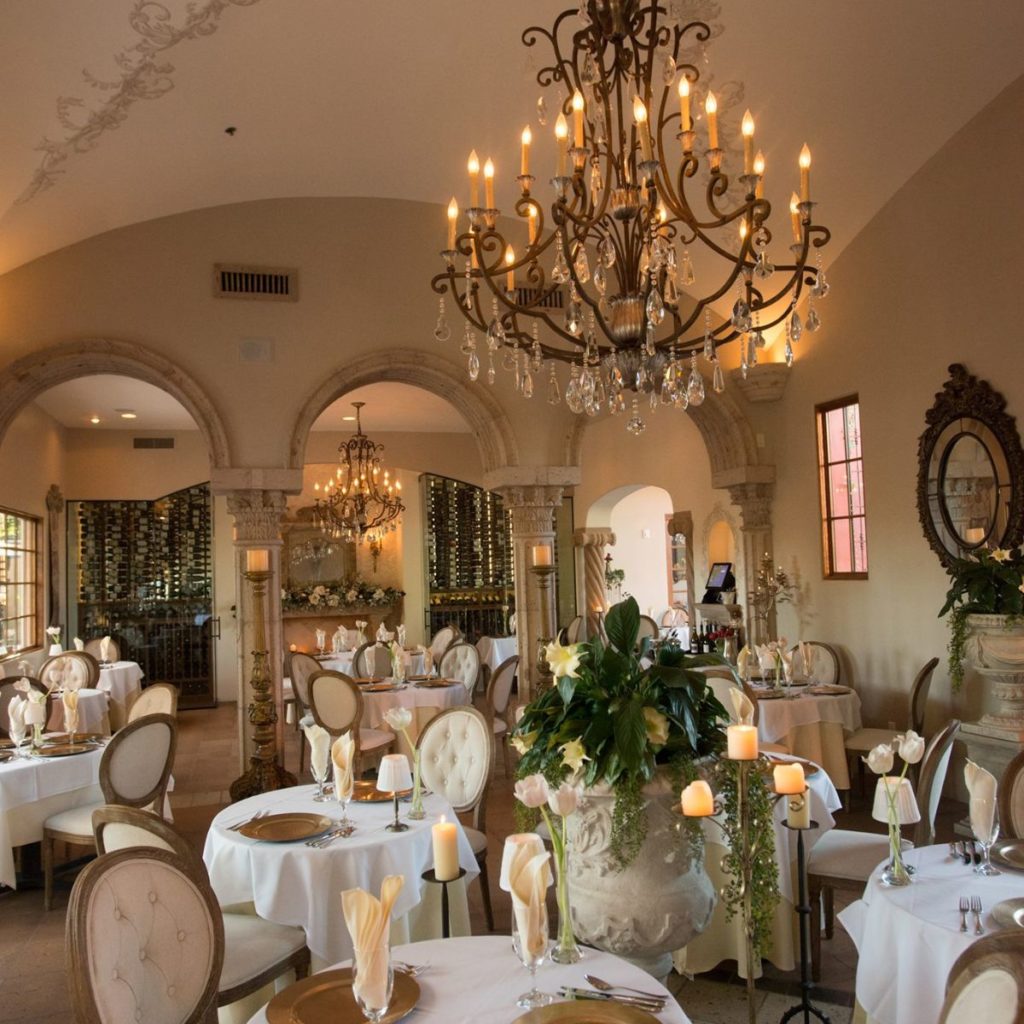 This romantic restaurant is different than the rest as they offer a four-course prix fixe menu and a fine dining experience that is unparalleled. And if that sounds expensive… well you aren't wrong. Currently, their least expensive meal is $125 while their most expensive is $270 (for an 8-course chef's tasting menu).
These prices don't include any wine pairings or add-ons either. So if you enjoy a nice wine or want some caviar with your meal be prepared to spend even more.
This isn't a place that you will want to pop into either (or go for a first date) as it is always busy and they have a dress code as well.
Cafe Monarch is certainly a perfect place to go for your romantic dinner and the food is outstanding but it is also by far the most expensive one that my husband and I have ever tried (we went there for our tenth anniversary). So if you are on a tight budget for your romantic date I would pass this one up.
Location: 6939 E 1st Ave, Scottsdale, AZ 85251
Website: Cafe Monarch
Final Thoughts
Each of the above restaurants is a great option for a romantic night. However which one is the best for you really depends on your budget and where in the valley of the sun you live. My wife and I enjoy visiting the locations in Scottsdale and that area since we live in Mesa and can easily get on the 202 and then the 101 to make it there in a short while.
But if you live in Tempe, Glendale, or Surprise those locations might be too far of a drive for you.
One of our favorite restaurants in the greater Phoenix area for a romantic night used to be House of Tricks however they recently closed as the owners ended up retiring in the summer of 2022. So although it was a great choice in the past if you have been recommended it recently be warned that it has already closed.