Last updated on May 12th, 2023
*This post may contain affiliate links. As an Amazon Associate we earn from qualifying purchases.
Panera Bread restaurants aren't just cafes selling sandwiches, soups, and salads. They are bakeries. Hence the name Panera Bread. 
The company started out with a loaf of sourdough bread and it was their founders dream to place a loaf of that sourdough bread in everyone's arms. So, along with selling meals, Panera sells bread. 
Breads, rolls, baguettes, and yes, even bagels. Their bagels come in all kinds so if you are a bagel lover you may have a hard time choosing between them. 
Selling everything from cinnamon swirl to asiago bagels, they have you covered for all your bagel needs. Wait, did I mention that a lot of Panera's bagels are also vegan? 
Most of Panera's bagels are vegan. You can have your choice from most of the bagels served at the restaurant for a vegan meal.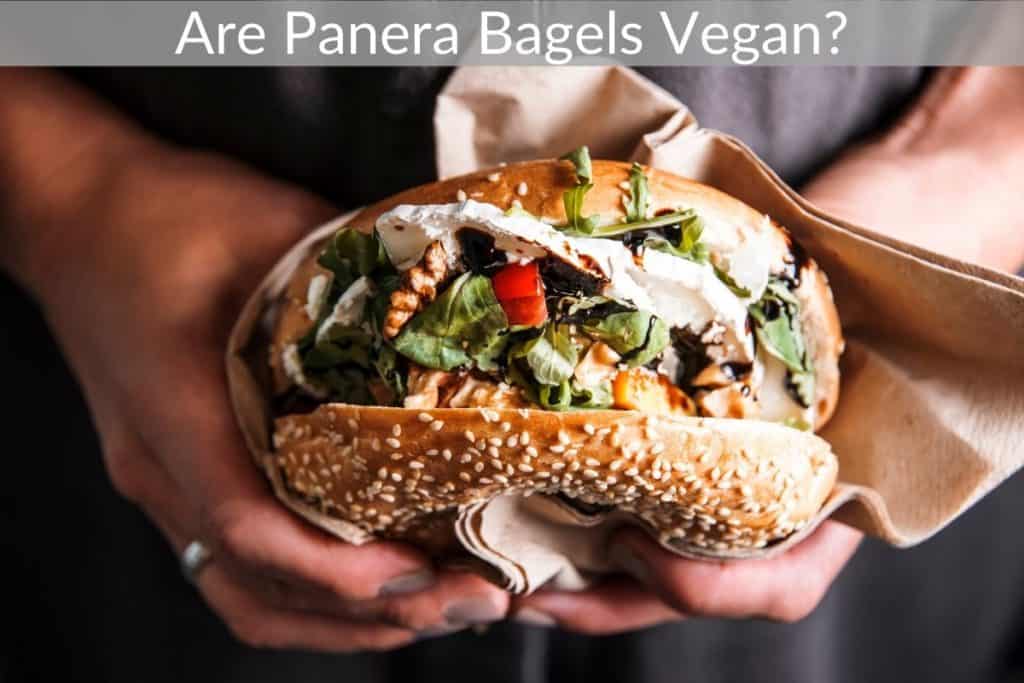 It would be a shame to go to Panera without ever trying some of their delicious breads. Now, if you eat vegan, you may be wondering if these delicious sounding bagels I mentioned really are what they say they are. 
The below Panera bagels and breads are all vegan friendly: 
Plain
Everything
Blueberry
Cranberry Walnut
Poppyseed
Salt
Sesame Bagels
Sprouted Grain Bagel Flat
Black Pepper Focaccia
Country Rustic Sourdough XL Loaf
Artisan Ciabatta
Classic Sourdough Loaf
Sourdough Bread Bowl
Tomato Basil Miche
White Whole Grain Loaf
Whole Grain Lavash Wrap
Whole Grain Sourdough Loaf
French Baguette
All of the bagels and breads mentioned above are indeed vegan. Stay away from the white and honey wheat bread though because these contain dairy.
Most of the bagels at Panera are vegan-friendly. They don't use any milk, eggs, honey or L-cysteine in most of their bagels. 
If you are on a strict vegan diet and are getting something to eat at Panera but you are unsure if the menu item is vegan or not, you can always ask the workers for some more details on how the particular food was made.
Which Panera Bread Bagels Are Vegan? 
A vegan doesn't eat or use anything that comes from animals. It is great that Panera makes and serves some menu items like bagels that are vegan. 
Which bagels at Panera are vegan?
At Panera, the plain, everything, blueberry, sesame, whole grain, sprouted grain bagel, and cranberry walnut bagels are all vegan.
Bagels are so good and can be a healthy breakfast food. At Panera they make some if not most of their bagels without anything coming from an animal, making these vegan. 
You can choose from several different kinds while still sticking to your diet. Now to get to those bagels that are completely vegan.
The plain, everything, sesame, whole grain, sprouted grain, and cranberry walnut bagels are all vegan options at Panera bread. Of course you can't spread them with cream cheese but peanut butter and jelly make a great vegan way to enjoy these bagels. 
So you can enjoy the bagels while still eating the way you want. 
Are There Any Vegan Pastries At Panera?
If you eat vegan and walk into a Panera hoping they have some vegan parties for you to enjoy, you will be sadly disappointed. Unfortunately there are no vegan parties served at Panera.
Many bagels and breads are vegan at Panera but they do not serve any completely vegan pastries.
Vegan defines someone who does not eat any food that has come from animals and usually doesn't use animal made products either. This is a strict diet and sometimes it may be hard to find food that tastes good while also fitting into your lifestyle. 
Many menu items at Panera are made with eggs or dairy. Yes, even the pastries. 
When it comes to the pastries at Panera, there are none that a vegan could eat. They all consist of eggs or butter and the only one that doesn't, contains whey which is a milk product. 
It has been said however that they do offer seasonal Valentine cupcakes that are vegan acceptable. So a vegan would have to sadly pass up the yummy looking pastries.
What Is The Healthiest Thing To Eat At Panera? 
Vegan eating can be a healthy lifestyle. But if you aren't into this drastic of a diet, no worries! There are still plenty of healthy options at Panera for you. So, what is the healthiest thing to eat at Panera?
The healthiest thing that you could get at Panera are their salads and veggie soups. Since Panera's food is made with fresh ingredients there are many healthy things to eat from their menu.
So what exactly do you need to look for in a healthy meal at Panera? Well, first of all, meals that have less than 700 mg of sodium are a good place to start as well as dishes made with whole grains. When lots of fruits and veggies are included in the meal you know it is a healthy pick. 
Adults can look for low calorie levels and choose ones that are 550 calories or less if you want to lose weight. Choose dishes that have healthy fats from food like avocados, olives, and nuts. Lastly, sugars should be kept to a reasonable limit.
Let's take a look at the menu items that may just be the healthiest on Panera's menu. 
Avocado, Egg White & Spinach Sandwich
Steel Cut Oatmeal with Almonds, Quinoa and Honey
Steel Cut Oatmeal with Blueberries, Granola & Cinnamon Crunch Topping
Mediterranean Veggie Sandwich
Roasted Turkey & Avocado BLT
Modern Greek Salad with Quinoa
Caesar Salad with Grilled Chicken
Strawberry Poppyseed Salad with Chicken
Black Bean Soup
At Panera Bread there's something from everyone even if you are vegan or just trying to eat healthy. They even have a list of all their nutrition facts for you to check out.
Final Thoughts
Panera is a great place to eat. Not only do they have healthy and good food but also an inviting and comfortable atmosphere. 
If you are vegan you can eat some of the menu items at Panera including most of their bagels. Unfortunately, none of their pastries are vegan since they use eggs and milk in making them. 
Panera is considered a healthy restaurant with several things on their menu perfect for those who are cutting back on calories or just want to eat healthier. 
Back to those yummy bagels, at Panera, the plain, everything, blueberry, sesame, whole grain, sprouted grain, and cranberry walnut bagels all fit into the vegan lifestyle so you can enjoy the bagel you love.