Last updated on May 11th, 2023
*This post may contain affiliate links. As an Amazon Associate we earn from qualifying purchases.
Chick-fil-A is one of many fast food restaurants but their most famous menu item is their original juicy fried chicken sandwich served up with a side of friendly hospitality. With dining rooms all across the nation, this popular fast-food chain has been booming since it was started way back in 1967. 
Although they aren't a traditional sit-down restaurant they do bring your food and drinks right to your table after you order at the counter, which is a little different than all other fast-food restaurants. That is just one of the many things that sets this fast-food restaurant apart.
And with 2,600 different locations of the beloved chicken chain in the USA, Canada, and Puerto Rico you are sure to find one to love near you.
Along with their delicious chicken themed food items, Chick-fil-A also serves their customers a wonderful selection of drinks. You can enjoy lemonade, teas, sodas, and coffees as well as milkshakes at Chick-fil-A. 
If you have already enjoyed some of their beverages and are thirsty for more, you may be asking the question, "Which drink has free refills?".
Chick-Fil-A will give free refills on all of their regular drinks such as soda, tea and lemonade when you get a dine-in meal (not if you get your order to-go and leave the restaurant). However, they don't offer free refills on any of their specialty drinks (coffees, frozen drinks, or milkshakes).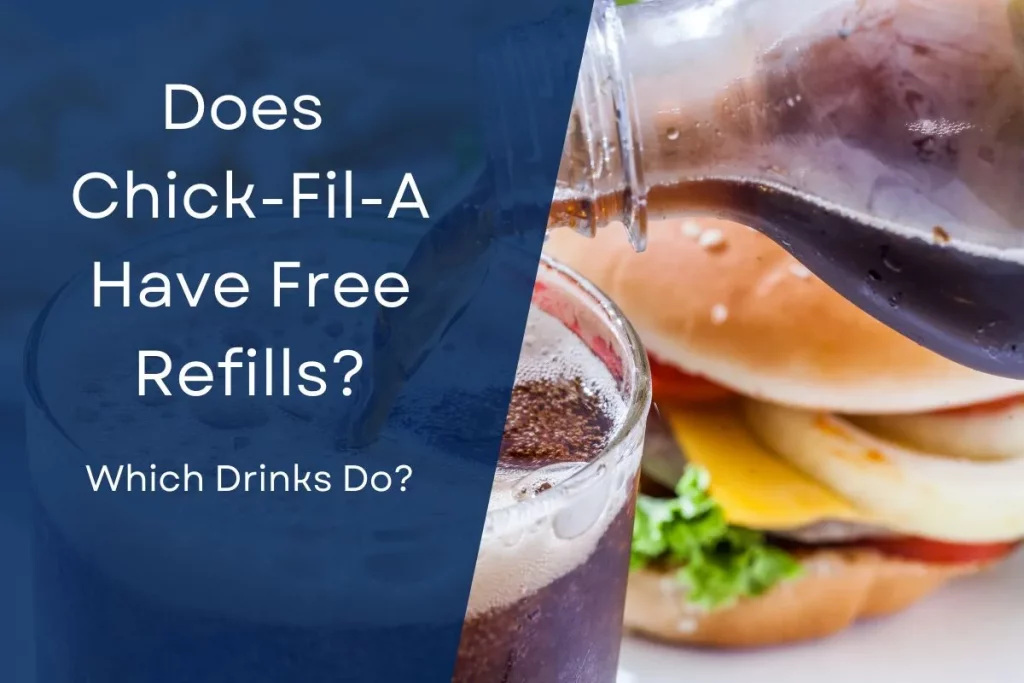 The following drinks at Chick-Fil-A all have free refills:
Freshly Brewed Iced Tea Sweetened
Freshly Brewed Iced Tea Unsweetened
Chick-fil-A Lemonade
Chick-fil-A Diet Lemonade
Sunjoy (½ Sweet Tea, ½ Lemonade)
Sunjoy (½ Sweet Tea, ½ Diet Lemonade)
Sunjoy (½ Unsweet Tea, ½ Lemonade)
Sunjoy (½ Unsweet Tea, ½ Diet Lemonade)
Coca-Cola
Dr Pepper
Other Soft Drinks (varies in different parts of the country)
The following drinks at Chick-fil-A DO NOT have free refills:
Iced Coffee
Hot Coffee
Bottled Water
Apple Juice
Orange Juice
Chocolate Milk
Regular Milk
Gallon Beverages
Frosted Lemonade
Frosted Coffee
Peach Milkshake
Cookies and Cream Milkshake
Chocolate Milkshake
Strawberry Milkshake
Vanilla Milkshake
To make it as easy as possible I created the table below so you can easily see which drinks do and do not have free refills at Chick-fil-A.
| Chick-fil-A Drinks | Offer Free Refills |
| --- | --- |
| Freshly Brewed Iced Tea Sweetened | Free Refills |
| Freshly Brewed Iced Tea Unsweetened | Free Refills |
| Chick-fil-A Lemonade | Free Refills |
| Chick-fil-A Diet Lemonade | Free Refills |
| Frosted Lemonade | No Free Refills |
| Sunjoy (1/2 sweet tea 1/2 lemonade) | Free Refills |
| Cup of Water | Free Refills |
| Bottled Water | No Free Refills |
| Coca-Cola | Free Refills |
| Dr. Pepper | Free Refills |
| Other Soft Drinks (varies by region) | Free Refills |
| Iced Coffee | No Free Refills |
| Hot Coffee | No Free Refills |
| Frosted Coffee | No Free Refills |
| Apple Juice | No Free Refills |
| Orange Juice | No Free Refills |
| Chocolate Milk | No Free Refills |
| Regular Milk | No Free Refills |
| Gallon Beverages | No Free Refills |
| Peach Milkshake | No Free Refills |
| Cookies and Cream Milkshake | No Free Refills |
| Chocolate Milkshake | No Free Refills |
| Strawberry Milkshake | No Free Refills |
| Vanilla Milkshake | No Free Refills |
At Chick-fil-A you can have your choice from a variety of drinks to satisfy your thirst. Their homemade tea and lemonade drinks are made with the best ingredients and deliver a taste that you will want more of. 
They also offer soda fountain drinks if you are wanting something a little more fizzy. If you have sipped your way to the end of your beverage don't hesitate to walk up to one of their staff members and ask them for a refill. 
They will be happy to give you a refill on the same day for your drinks. 
Not all the drinks at Chick-fil-A can be refilled. Only the regular beverages. If you order a specialty drink, you cannot get this refilled (at least not for free).
Chick-fil-A provides their guests with a choice of their tasty coffee (their coffee beans are sourced by Thrive farmers which gets the beans directly from farmers) and milkshakes but unfortunately these do not come with the free refill option (according to their free-refill policy). Their frosted drinks like frosted lemonade and frosted coffee are delicious but since these are specialty drinks they cannot be refilled for free as with the regular drinks. 
But, if you have a regular drink such as lemonade, soda, etc. they will be happy to fill the cup up again so you can enjoy more of the tasty beverage.
Chick-fil-A is a great place to eat with good food. Their drinks are good too and they offer many specialty kinds of beverages.
As long as you order some dine-in meals (or just get a drink and sit down in the restaurant to drink it) you can get unlimited free refills. You just have to ask one of the team members for your drink refills or take your cup up to the counter and ask (since they don't have a drink station where you can get your own).
Heck, you can even get a free refillable senior drink if you are over the age of 55!
Unfortunately, Chick-fil-A doesn't offer free drink refills if you go through the drive-through window. However, if you order in the drive-thru, change your mind and then come into the dining area, I'm sure they wouldn't have a problem getting you some free refills in that case especially if you bring in your to-go bags so they can see that you just ordered.
Not only does Chick-fil-A serve great chicken and sides like waffle potato fries, salad, and mac and cheese, but also refreshing drinks. And the good news is that most of them are refillable. 
But that ice cream cone that you got… no, it does not have free refills (I know right!).
Does Chick-Fil-A Charge Extra For Lemonade?
All fast-food chains seem to have a super popular drink and for Chick-fil-A that is their Lemonade. It is absolutely delicious and goes great with many of their menu items.
When ordering a meal at Chick-fil-A you want to add on a drink that sounds delicious. Instead of just getting a regular fountain drink or water, you decide to get some lemonade. 
Does Chick-fil-A charge extra for their lemonade?
Chick-fil-A does upcharge for their lemonade. As of right now the lemonade costs .36 more than the same size soft drink. 
The price is worth it though since the sweet and sour freshly-squeezed lemonade is really delicious (and you get free refills for it as well).
Chick-fil-A employees make their lemonade fresh every day by hand squeezing several lemons for the beverage. Tasting much better than Minute Maid lemonade, Chick-fil-A is the perfect combination of a sweet and sour experience you want in every sip. 
Since it takes more time and effort to make the lemonade it is an extra charge if you want to upgrade your drink that comes with your meal. Most people don't worry about this at all since the upgrade price isn't all that much and the lemonade is a fan favorite.
Talking about Chick-fil-A's lemonade wouldn't be complete without mentioning that you can even order the beverage by the gallon. If you love it and want some at home, or are wanting to take it to a party for a special occasion, try purchasing the yummy lemonade in an entire gallon. 
Chick-fil-A even offers a diet lemonade for those who don't want all the sugar. If you feel like it's a lemonade/tea kind of day, enjoy the half tea half lemonade drink (known as the Sunjoy).
Chick-fil-A's tea is also available with diet options. 
For a special treat you may want to try the frosted lemonade that is many customers' favorite. It pairs perfectly with their fried chicken sandwich, chicken nuggets, and waffle fries.
So, while Chick-fil-A does charge a little bit extra for lemonade, it is because it is a special drink. And in my opinion it is worth the few extra cents because of its amazing taste.
Final Thoughts
Chick-fil-A is many people's favorite place to grab a bite to eat. Their official Chick-fil-A sandwich is cooked to juicy and crispy perfection and their waffle fries are hard to pass up (especially when dipped in their signature Chick-fil-A dipping sauce. 
What completes the entire meal is one of Chick-fil-A's drinks. So, the next time that you are in a Chick-fil-A be sure to enjoy the many refills of their delicious lemonade (or even grab some extra sauce for in between visits).
Unfortunately, this fried-chicken chain doesn't give refills on some of the specialty drinks like frosted beverages or milkshakes, but you can always get refills on regular drinks. You can choose from soda fountain drinks, tea, or lemonade that can be refilled after you have finished the last drop.