Last updated on September 16th, 2022 at 01:15 am
*This post may contain affiliate links. As an Amazon Associate we earn from qualifying purchases.
Summer is always a great time to pop open the grill and get some ribs. But what if you don't want the hustle of prepping the grill, or you don't have the space? Can you cook ribs in a toaster oven?
A toaster oven is one of those gadgets that have become a must-have in the kitchen. From busy professionals and families to single people, a toaster oven can really make a difference in the time you spend cooking healthy meals.
They are great for getting breakfast, lunch, or dinner on the table because they preheat much faster than a standard stovetop or wall-mounted oven. And as a bonus, they don't heat up your entire kitchen. Say goodbye to sweaty hot summer cooking.
They are also perfect for small-batch cooking or baking. Need to roast a handful of veggies? Pastries? Or Meat? Rest assured that your toaster oven is up to the task.
But can it handle a stack of ribs?
Ribs can be cooked in a toaster oven as long as they are cut small enough to fit inside. After all, your toaster oven is basically a mini-version of your standard oven.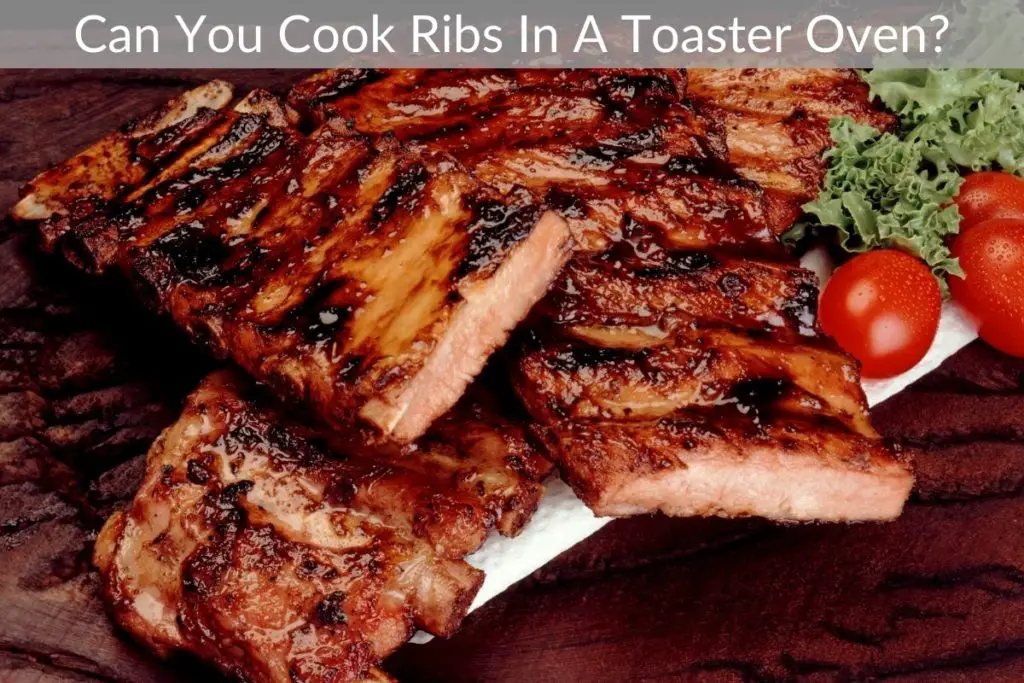 One instrument you can't do without is a meat thermometer. Raising or lowering the temperature quickly can be difficult when using a toaster oven. The process is much easier on the grill. A meat thermometer helps you monitor the internal temperature in your oven. Additionally, you'll lower the temperature in the oven each time you have to open the door.
How Long Do You Cook Ribs In A Toaster Oven?
Depending on the toaster oven model you have, it could take you anywhere between 1 to 4 hours to cook ribs in a toaster oven, depending on the temperature.
So, for example:
4 hours at 250 F

3 hours at 300 F

2 hours at 350 F

You can follow these steps:
Cover the ribs with aluminum foil and bake for 1 hour and 45 minutes, or until tender

Remove the ribs and season

Bake the ribs uncovered for 15 to 20 minutes more or until the ribs are nicely glazed.

What temperature cooks boneless pork ribs through?
So let's say you've decided to go boneless; the temperature sweet spot is roughly around 145°F. You want to aim for a tender, juicy finish, so I suggest that you cover the pan loosely with foil for the last 30 minutes to prevent your ribs from drying out.
Should I Cook Ribs In My Toaster Oven?
Yes, you can, but if you're using your toaster oven for the first time, it's essential that you first read the manual to figure out how to use it. Ensure that you study the safety tips and look out for any limitations you should be aware of.
Secondly, treat your toaster oven like your standard oven when you're roasting, baking, or broiling. This means following all the steps and protocols, including ensuring that it's appropriately preheated before you throw your ribs in, or you'll get underdone ribs.
Another critical tip to remember is to avoid opening the oven door too often to check on the progress of your food. This can cause the temperature inside your toaster oven to drop, which could increase the time you spend cooking.
Remember that like larger conventional ovens, toaster ovens require hot air circulation to cook your food. Additionally, try not to fill your toaster oven to capacity; there must be enough room for the air to circulate. I suggest cutting down your food in half or investing in appropriate accessories to help the oven do its job.
Lastly, if you're cooking something that might spill over like lasagna, think ahead and place a drip pan underneath to catch any excess spills. This will also save you from having to clean up a gigantic mess after you're done cooking.
Cooking Pork Ribs In The Toaster Oven
I've put together a simple recipe for you to follow. Check it out below:
1 rack pork baby back ribs at room temp

1 cup of dry rub

1 cup of barbecue sauce (or any seasoning of choice)

5 tbsp honey Dijon mustard

Method:
Preheat the toaster oven to 300 F.

Use foil or parchment paper to line the baking sheet.

Spread mustard over both sides of the ribs.

Sprinkle the rub.

Bake the ribs for two hours and then set it out to rest for a minute.

Baste a thin layer of barbecue sauce onto both sides of the rack, then bake for another 30 minutes.

Repeat the basting painting of the sauce, and bake for another 30 minutes.

Cooking Beef Spare Ribs In The Toaster  Oven
Spare ribs are slightly tougher than baby back ribs and pork, so a slower, lower heat is ideal for beef spare ribs.
Ingredients:
1 rack of spare ribs at room temperature

1 cup of your favorite rub

1 cup of your preferred barbecue sauce

5 tbsp honey mustard

1 tbsp liquid smoke (recommended)

Method:
Preheat the oven to 285 F.

Use aluminum foil or parchment paper to line the baking sheet.

Spread mustard (and liquid smoke).

Pour rub all over.

Bake the spare ribs for 2 hours.

Bast the rack with a layer of barbecue sauce on both sides and bake for another hour.

Repeat the basting sauce spreading and bake for another 30 minutes or until tender.

How To Cook A Rack Of Lamb In The Toaster Oven
Lamb's ribs are often overlooked when we talk about ribs, but they are just as delicious. And they cook pretty quickly, too, if you don't have enough time to nurse a stack of ribs for hours.
Ingredients:
1 rack of lamb, cold from the fridge

4 tbsp olive oil

2 tbsp garlic powder

2 tbsp rosemary, dried and ground

2 tbsp breadcrumbs

Salt and pepper to taste

Method:
Mix the dry ingredients in a blender.

Brush lamb with oil, then coat it with dry ingredient mix.

Rest rack for 10 minutes while preheating the oven to 450 F.

Roast the lamb for 15 minutes.

Flip the rack and roast for an additional 15 minutes.

Remove from heat and allow the ribs to rest for 10 minutes.

Conclusion
A toaster oven has several unique advantages over your conventional oven. Because of its size, it heats up quickly and cooks your meals even faster. Of course, toaster ovens have their limitations, but overall, they are a nifty appliance to have in your home.