Last updated on May 11th, 2023
*This post may contain affiliate links. As an Amazon Associate we earn from qualifying purchases.
Ice cream is a favorite dessert of many people all over the US. But if you live on the surface of the sun (like it seems like we do in the Phoenix area during the summer) then licking that cold delicious treat takes on a heavenly-like experience.
With how hot it can get during the summer months (have seen 115-120 pretty regularly) you can't go wrong with getting a frozen treat after work or on the weekends at the end of a hot day. But since it is so hot here there seem to be ice cream shops on every corner which makes finding the best places to get ice cream pretty difficult.
How are you supposed to know which ones are the best?
Well, that is why I made this list of local favorites. These are my family's favorite ice cream stops during the summertime. They are spaced out all over the valley (since you don't want to drive an hour on the 60 or 202 to get your ice cream) so you should be able to find one near you.
These are some of the best ice cream shops that my husband and I have found over the years here in Phoenix. There are some other popular ice cream stores like Fatty Daddy, Sweet Republic, and Udder Delights that I have heard people raving about.
But I haven't personally tried those yet so I didn't want to add them to the list of best ice cream parlors before I have actually tried them.
1. Sugar Bowl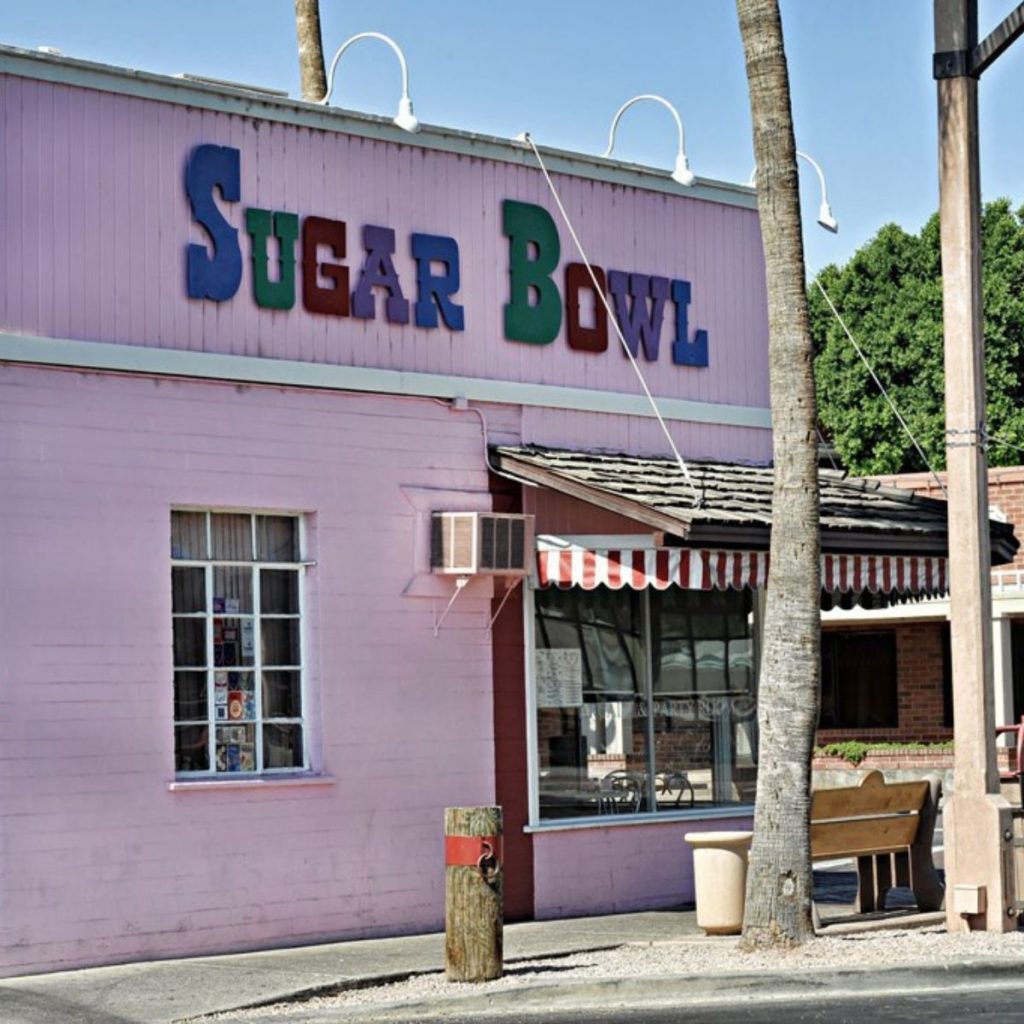 I put this one at number one because it is my husband's and my favorite place to pick up ice cream when we are near Scottsdale. This is an old-time ice cream parlor that serves ice cream, sandwiches, and other traditional sweet treats (like shakes, malts, and floats).
There aren't many old-school ice cream parlors in Phoenix so this one really stands out from the crowd.
When you look at the ice cream menu there will be no doubt that you took a step into the past (if the pink interior and exterior didn't give it away). You will find all the popular foods from diners and old-fashioned soda fountains from years gone by.
This ice cream parlor still has the original look and feel of a 50's diner and their prices reflect it nicely as well (no it's not as cheap as it once was but is better than many of the other ice cream places that we have tried).
My favorite thing to get at this nostalgic soda shop is the ice cream sundae while my husband prefers their banana splits. I can't remember ever eating a bad dessert here and the fun atmosphere (and small arcade) make it a great place for families and friends to sit down and spend a while.
Their friendly staff goes a long way to making this number one on my list of the best ice cream places in Phoenix.
Location: 4005 N Scottsdale Rd, Scottsdale, AZ 85251
Website: Sugar Bowl
2. Unbaked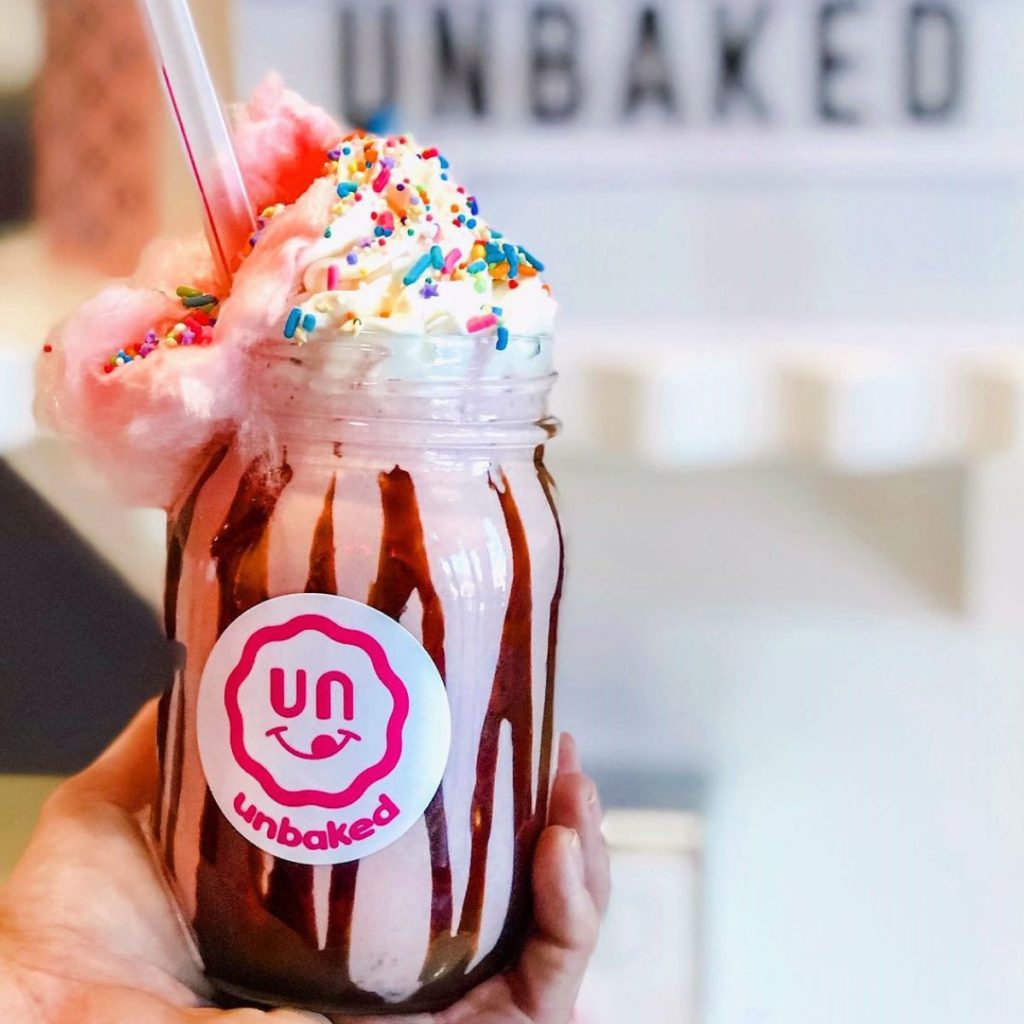 This is another great dessert shop in Scottsdale (can you tell where my husband and I like to wander around on a Friday night?). Although the Sugar Bowl (mentioned above) is more of an old-fashioned ice cream parlor this is far more modern.
Unbaked serves cookie dough rather than cookies (hence the name) but their ice cream dishes are absolutely to die for!
They have ice cream cookie sandwiches (in between cookies of course), ice cream shakes (my personal favorite), and of course cookies with ice cream on top. Just because this is a place that serves cookie dough doesn't mean their ice cream is bad either.
Unbaked serves all sorts of desserts (and you really do have to try their edible cookie dough as it's awesome). Having a cookie dough melt (if you head back into the heat) is delicious as well.
Ice cream lovers and cookie lovers are sure to find the perfect treat that they have been craving and you are likely to eat the best dessert that you have ever had.
The biggest issue with Unbaked is how close it is to the Sugar Bowl as we have to decide which one we want to go to get delicious ice cream.
Location: 3712 N Scottsdale Rd, Scottsdale, AZ 85251
Website: Unbaked
3. Oldie's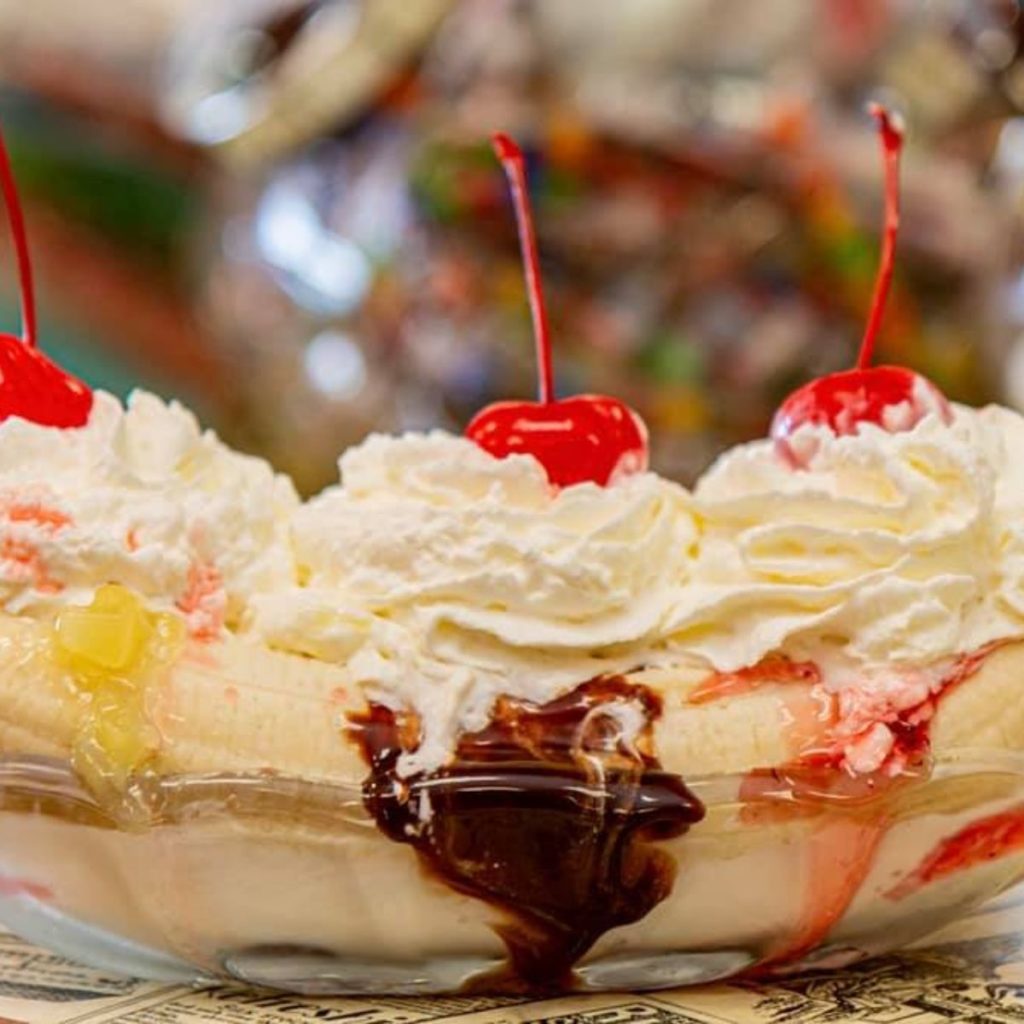 Okay, so this one isn't exactly in Phoenix (and isn't even considered to be in a suburb of Phoenix) but if you are headed out to the Superstition Mountains or Silly Mountain on a weekend you have to swing by Oldie's. It is an old-time ice cream shop similar to the Sugar Bowl however they only serve ice cream, gelato, and ice cream creations.
Another thing to keep in mind with Oldie's is that they are closed on Monday and Tuesday. So if you are out hiking on those two days this ice cream parlor will have to wait for another day.
This ice cream parlor is quite a bit smaller inside so it can't handle a large party but their ice cream is stunning in quality and their prices aren't too bad either. So if you are headed out to the East Valley (or are driving to Globe on the 60) be sure and take the time to stop at Oldie's.
Location: 5301 S Superstition Mountain Dr, Suite 103A, Gold Canyon, Arizona 85118
Website: Oldie's
4. Churn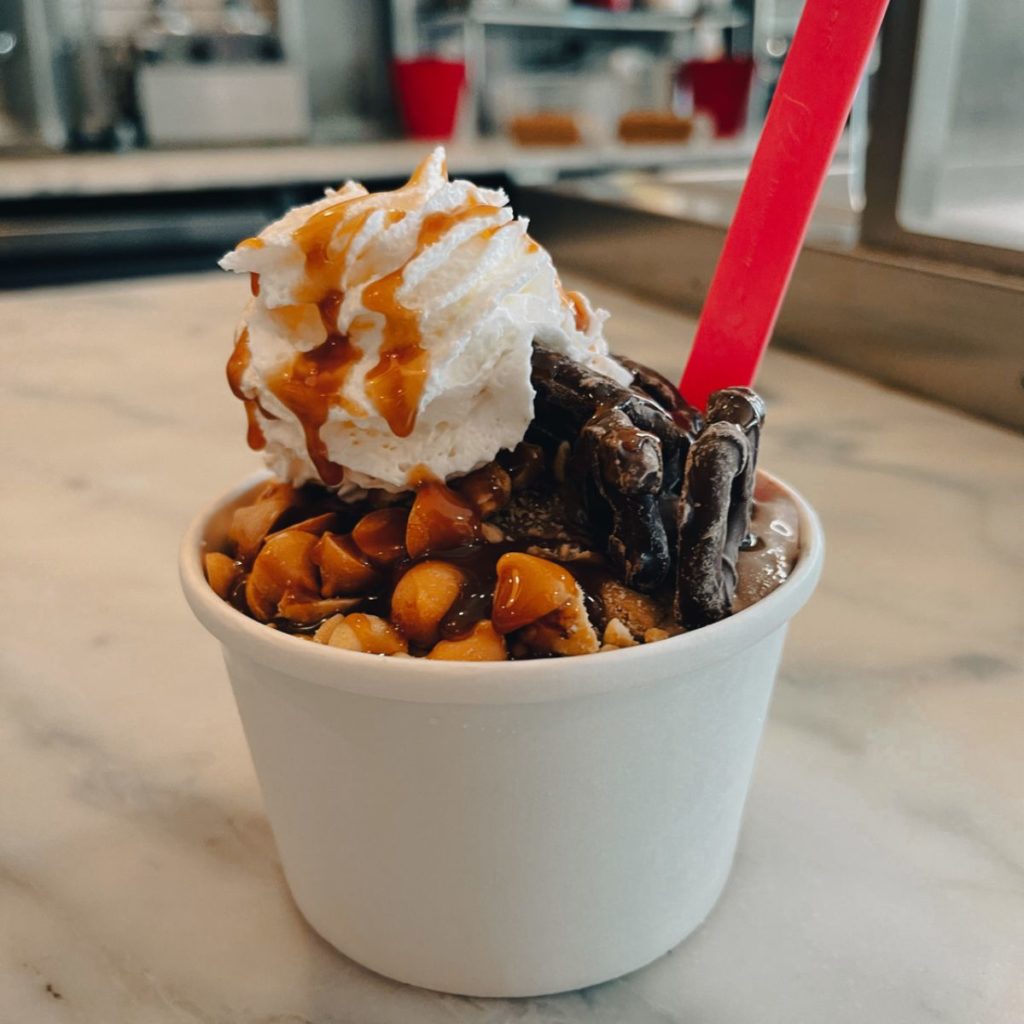 Churn is another nostalgic type of ice cream shop that serves up tons of amazing conceptions. My personal favorite is their Kitchen Sink ice cream sundae (who knew that was a thing) that has peanut butter & chocolate ice cream, toffee sauce on top, chocolate pretzels, butterscotch chips, whipped cream & peanuts all mixed in.
Seriously this thing will blow your mind.
They have many other unique flavors as well with interesting ice cream cones to choose from (my husband likes their pretzel cone but they have a waffle cone and traditional as well). They of course have shakes and floats as well.
We've been here a few different times and we both like to try different things. The last thing my husband got (that he absolutely loved) was the S'mores sundae. They even toasted the marshmallow that they put on the top!
Location: 5223 N Central Ave Phoenix, AZ 85012
Website: Churn
5. Scoop & Joy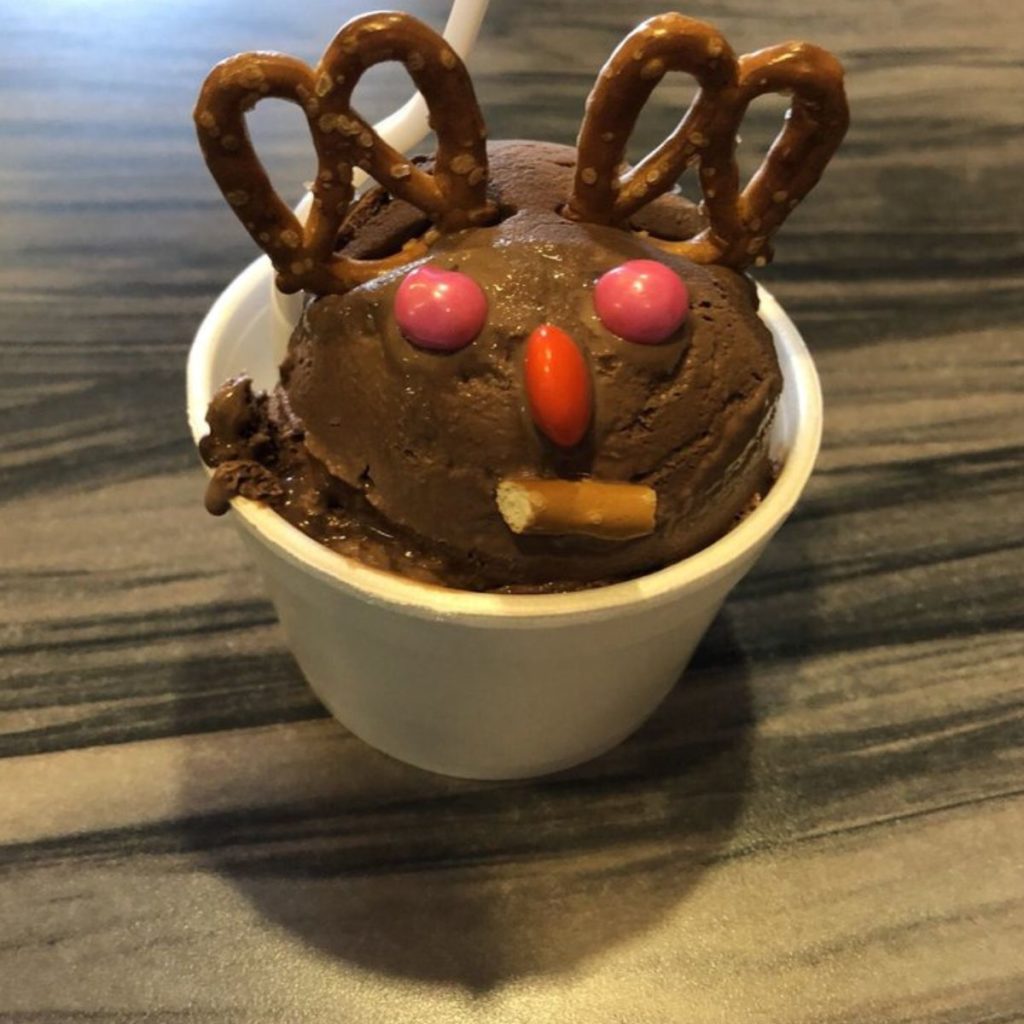 Sorry but this is another one from Scottsdale. Not sure why they seem to have the coolest (see what I did there) ice cream shops but they really do. Scoop & Joy is a unique experience that is designed to not only satisfy your ice cream crazings but also to bring you joy.
Check out the image above and tell me that doesn't make you smile!
All of their ice cream dishes come with little faces or designs (made with edible toppings) that will be a hit with kids and adults alike (my kids love the cookie monster face). They offer tons of delicious flavors as well as some specialty sundaes.
Scoop & Joy also has many fresh baked items as well so if someone in your family isn't wanting ice cream they do have other options to try as well.
My husband's favorite thing to get is their Dole Whip (which tastes like Disney's) while my favorite flavor is the Rocky Road (I like adding hot fudge, caramel sauce, and chocolate chips on top).
Location: 10135 E. Via Linda, #C112 Scottsdale AZ, 85258
Website: Scoop & Joy
6. Creamistry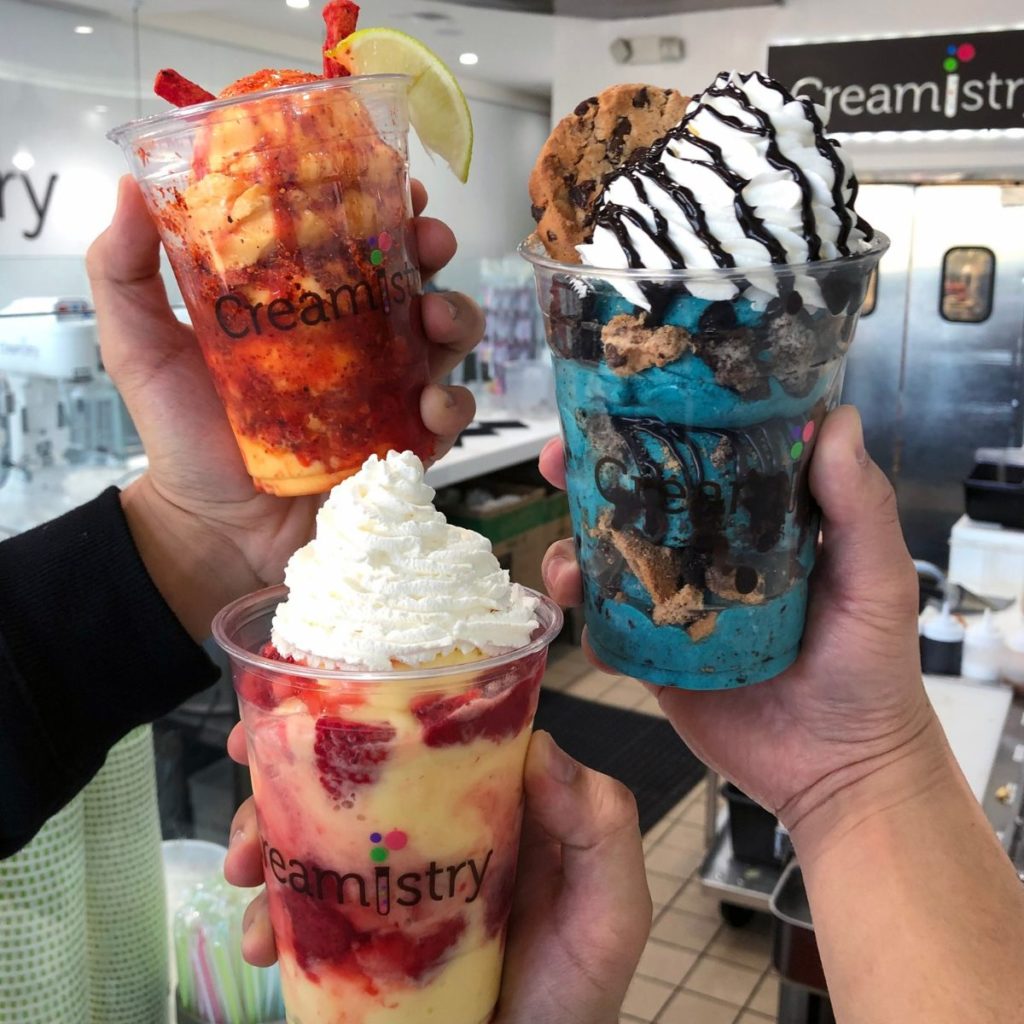 Now let's go from old-time ice cream shops to modern ice cream made with liquid nitrogen! That's the hand-crafted ice cream you will get with Creamistry.
All of their ice cream is made fresh when you order it (using a flash freeze process) so it will taste unlike any other ice cream shops on this list. They offer a variety of flavors (from classic flavors to those with a modern twist).
Because of the way that they make their ice cream they offer many inventive ice cream flavors that you can choose from as well. These might not be the most inventive flavors at any ice cream shop but you are likely to find some that you have never heard of before.
One major con to Creamistry is that since it is made to order the quality can be extremely inconsistent depending on who is working at the time. It is also much more expensive than the other options on this list.
So although the concept is cool and the ice cream has been good when I have gone it might not be the next time when we go. Just something to keep in mind.
Locations:
335 N Gilbert Rd Suite 101, Gilbert, AZ 85234
15345 N Scottsdale Rd K1-130, Scottsdale, AZ 85255
Website: Creamistry
Final Thoughts
There are many Phoenix ice cream shops to choose from on a hot summer day. Whether it is your first time in the Valley or you have lived here all of your life, these are all excellent choices and you are sure to find the perfect place that you will enjoy.
Making a list of the best ice cream shops might be tough in some areas of the country but in Phoenix… we seem to have them on every corner! So deciding what to leave out was harder than what to add.