Last updated on May 12th, 2023
*This post may contain affiliate links. As an Amazon Associate we earn from qualifying purchases.
Smoothies are a great treat on a hot day. Smoothies are often a replacement meal and typically replace breakfast or lunch. Smoothies are a healthier alternative to simply skipping breakfast or lunch. 
The fruits and berries that are used to create your smoothie give you the nutrients you need. If you are ever in a rush and need a smoothie fast, Panera is a great place to stop. 
You can have your smoothie in no time at all but are these smoothies from Panera healthy? 
Panera's smoothies are healthy and are full of natural ingredients, vitamins, minerals, and antioxidants. Since Panera uses only natural ingredients, there is no added sugar in the smoothie either.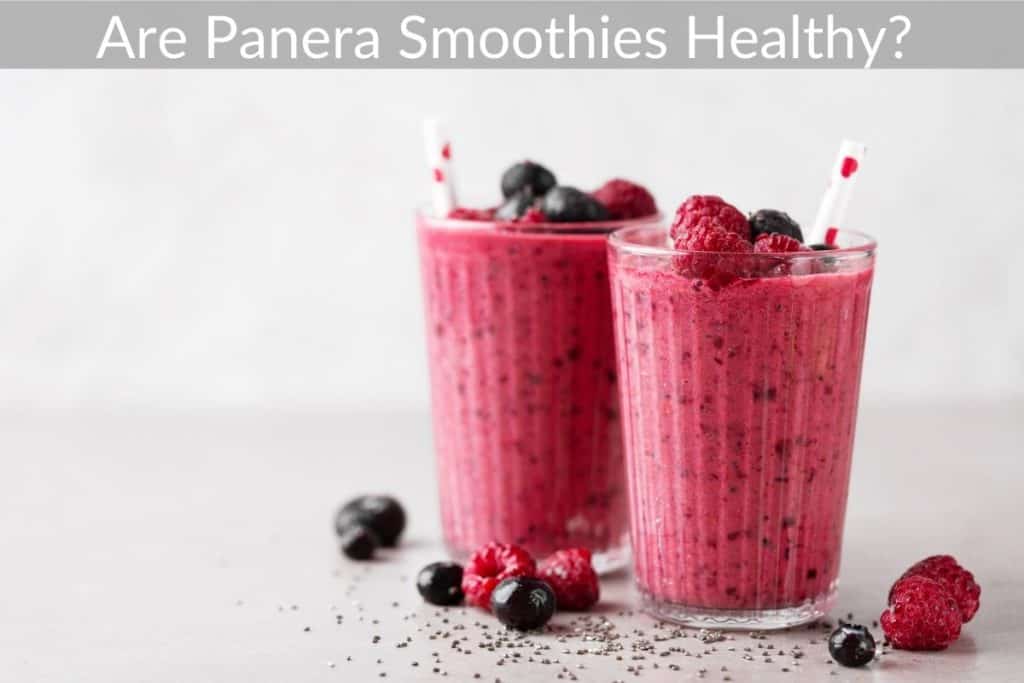 Some fan-favorite healthy smoothies at Panera are the Green Passion Smoothie, Mango Smoothie, Peach and Blueberry Smoothie made with almond milk, Superfruit Smoothie, and the Strawberry Banana Smoothie. 
The mixture of Greek yogurt and different fruits have all the natural sugar taste needed. If any sugar is added, it is typically Stevia, which is a great sugar substitute that is healthier than normal sugar. 
Are There Health Benefits To Drinking Smoothies? 
Whether you mix your own smoothies or end up stopping at Panera to purchase one, you need to know if there are any actual health benefits. Would it just be better to eat a meal instead of drinking a smoothie? 
If there are any health benefits from drinking smoothies, what are they? 
Smoothies are full of fruits and veggies that you might not otherwise eat. Instead of eating a cup full of blueberries and a cup full of peaches, you can just drink it all in a blueberry and peach smoothie. 
There are quite a few health benefits to drinking a smoothie. Typically, you drink a smoothie to curb your appetite and replace a meal. Here are a few health benefits you can have from drinking smoothies.
Detoxes Your Body
Fruit has so many great attributes when it comes to aiding our health. One of those is helping keep the body detoxed. While you might not consider eating a few cupfulls of different kinds of berries, a berry smoothie is a great option. 
The berries and other fruits and veggies will help keep your body working properly and naturally rid your body of some toxins.  
Boosts Brain Power
Concentration and being alert is attributed to Omega-3 fatty acids. You can add avocado or chia seeds to your smoothie for an extra boost of brainpower.
 Any smoothie with these ingredients or any other ingredients that are high in Omega-3 fatty acids is great for helping you stay alert. 
Aids In Digestion 
If you opt for a green smoothie instead of a fruit one, you will receive many nutrients that help aid in your body's digestion. The greens in your smoothie are full of fiber and other gut-healthy-rich nutrients. 
Not only do the ingredients aid with your body's digestion, but so does the smoothie itself. When used as a meal replacement, the liquid breakfast or lunch is easier on your insides to digest than a full meal. 
Aids In Weight Loss
Drinking smoothies alone will not help you lose weight. Drinking smoothies with other healthy lifestyle choices is what promotes weight loss. 
Smoothies are a great aid when trying to lose weight. They help to curb your hunger and will satisfy your hunger cravings with a vitamin-rich drink. While some experts say, "Don't drink your calories," others argue that smoothies as a meal replacement are a good option. 
What Can You Eat At Panera To Lose Weight? 
Often we find ourselves in a rush but know we need to eat. There is no time to enjoy the relaxed atmosphere of a sit-down restaurant. 
The next option is fast food, but that is not the healthiest of options. Is there a choice that is both fast but also has healthy options? 
Panera is the perfect blend of "fast food" and relaxed dining. You have three options; you can either dine-in in a relaxing environment, order your food to-go, or go through the drive-through. 
Whichever option you chose, Panera is a great place for clean eating and fast service. 
Here are a few healthy choices that Panera has to offer. 
Sandwiches
If you want to eat healthier without feeling like you are dieting, Panera sandwiches are a great option. Here are a few healthy choices of sandwiches on Panera's menu. 
Turkey Sandwich – 510 calories: This sandwich is made on country rustic sourdough bread. It contains oven-roasted turkey breast, greens, tomatoes, red onions, mayo, spicy mustard, salt, and pepper. If you are looking to cut a few calories, you can opt out of adding mayonnaise. 
Mediterranean Veggie – 540 calories: Served on tomato basil bread, this sandwich includes greens, cucumbers, sliced tomatoes, feta, red onions, salt, pepper, and peppadew peppers. You can opt out of the humus to save a few calories. 
Napa Almond Chicken Salad Sandwich – 550 calories: This chicken salad is served between two slices of country rustic sourdough bread. It contains a mixture of chicken, celery, sliced red grapes, toasted almonds, and a special dressing that makes the chicken salad creamy. It also comes with toppings of greens, sliced tomatoes, salt, and pepper. 
Soups
All of Panera's soups have the option to come in a bread bowl. If you are looking for the healthiest options and ones to aid in weight loss, skipping the bread bowl is the best choice. 
Ten Vegetable Soup – 100 calories: The ten vegetables included in this soup are tomatoes, onions, corn, carrots, spinach, celery, red and yellow peppers, poblano peppers, and garlic. They are all simmered in seasoned vegetable stock that includes chickpeas, sprouted brown rice, and dried Aleppo chile. 
Homestyle Chicken Noodles Soup – 100 calories: Pieces of shredded white chicken meat are simmered in chicken bone broth with egg noodles, carrots, celery, and herbs. 
Cream of Chicken and Wild Rice Soup – 260 calories:  This soup contains diced chicken, celery, onions, carrots, and long grain and wild rice. The ingredients are simmered in chicken stock with other herbs. 
Salads
There are many delicious salads that Panera has to offer. Out of all their salads, these are some of the healthiest.
Caesar Salad – 330 calories: The Caesar salad includes romaine lettuce, grated Parmesan, homemade black pepper focaccia croutons, and it is all mixed with Ceasar dressing. 
Greek Salad – 390 calories: This salad consists of romaine lettuce, feta, grape tomatoes, red onions, kalamata olives, salt, pepper, and it is mixed in with a Greek dressing and pepperoncini. 
Asian Sesame Salad with Chicken – 410 calories: This salad contains chicken, romaine lettuce, cilantro, sesame seeds, toasted almonds, wonton strips, and is mixed with an Asian sesame vinaigrette.
All of these foods do not include the calories for sides. You can add sides or choose to just eat these healthy options by themselves. You can even pair a healthy sandwich and soup together for a low-calorie meal as well. 
For example, if you pair the Turkey Sandwich with the Homestyle Chicken Noodle, your total meal calories would only be 360 calories. 
Final Thoughts
Panera is an excellent choice of restaurant when deciding to adopt a healthy lifestyle. There are several healthy options for their food and smoothies as well.  
Ultimately their smoothies are very healthy but only when used as a meal substitute not as an afternoon snack. Drinking your calories is never good unless it's as a meal replacement.